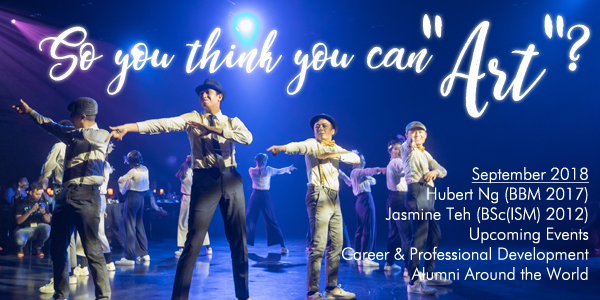 In the spirit of SMU Arts Festival (7-16 September), we shine the spotlight on two inspiring alumni who have ardently pursued a career in the arts. Singer-songwriter Hubert Ng (BBM 2017), better known as Yuzhe (黃宇哲) in the Mandopop scene, grabbed the opportunity during his exchange programme to Taiwan to break into its notoriously competitive music market. Meanwhile, Jasmine Teh (BSc(ISM) 2012) is a full-time storyteller through her illuminating and moving documentary films shedding light on myriad unsung heroes of Singapore. Hubert and Jasmine are just two of many alumni who have decided to chase their "arty fartsy" dreams against innumerous odds and naysayers, and through sheer grit and determination have made meaningful impact in their respective industries. Join us as we celebrate their accomplishments and wish them well on their budding journeys.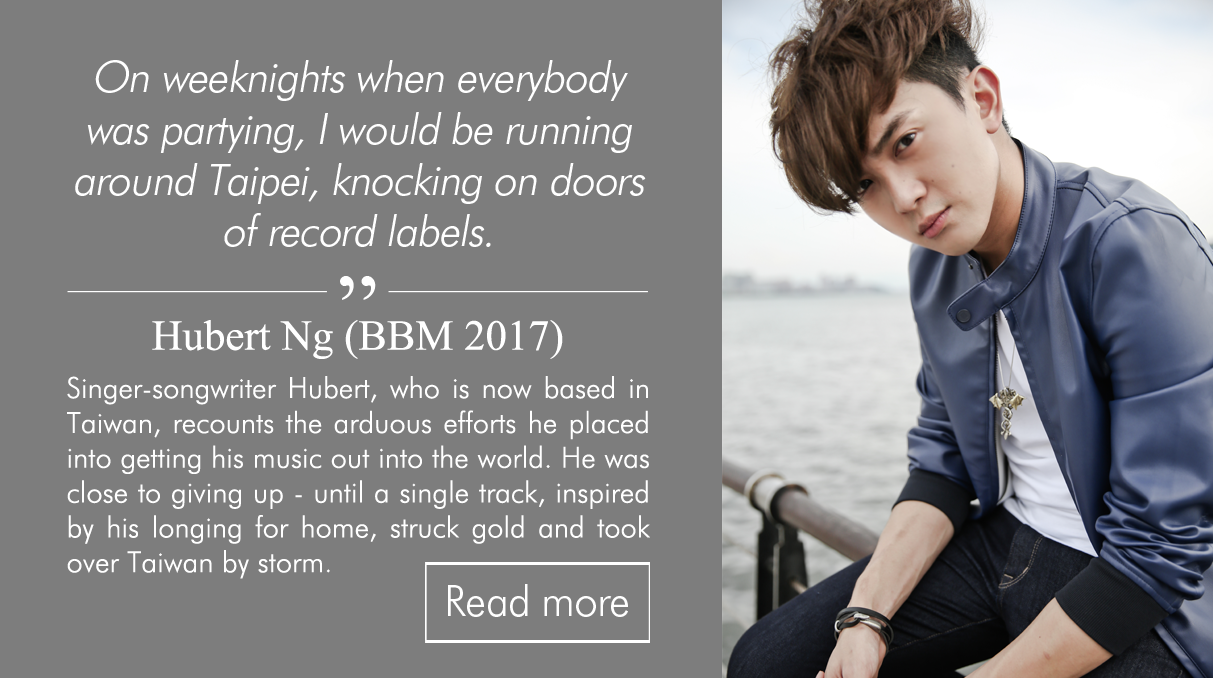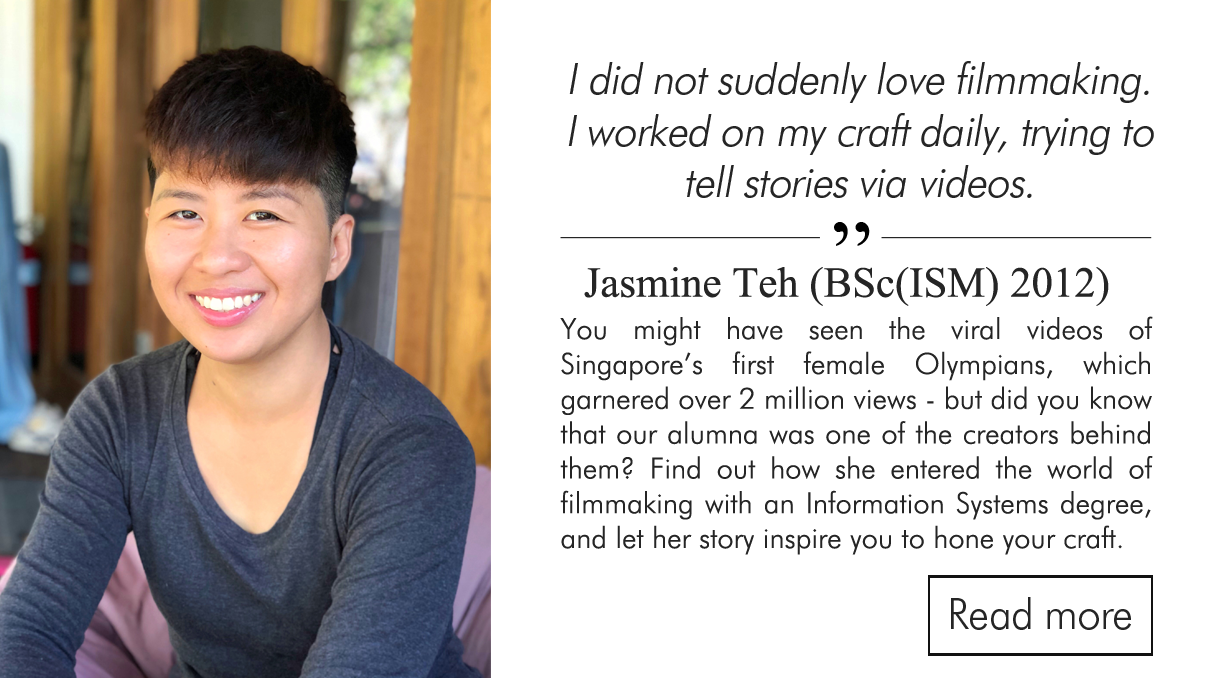 career & professional development




IE-SMU MBA Information Session

Looking for a part-time MBA with the diversity of a full-time class?

The IE Business School – SMU alliance provides you with global access to unparalleled business knowledge as you propel your career to the next stage.

Register here for the IE-SMU MBA information session on the evening of 20th Sep.


SMU PhD




Applications for Aug 2019 intake are now open and will close on 31 Jan 2019.
* Candidates who apply by 31 Oct 2018 will be given priority for consideration of scholarships.




ALUMNI JOB BOARD

Check out the latest job postings on ONTRAC II - Alumni, including:

Programme Coordinator - Silver Generation Office Singapore

International Assignment Consultant (Japanese speaking) - Graebel APAC Center Pte Ltd

Executive, Corporate Office- Pacific International Lines Pte Ltd

Investor Relations & Corporate Finance Contract, 6 months - Temasek International Pte Ltd

Accounts Executive - Ulink Assist Pte Ltd

Business Development Executive - Recruit Express Pte Ltd

Legal Talent Consultant - Searchasia Consulting Pte Ltd

Software Engineer - 8 Investment Pte Ltd

View More Jobs on ONTRAC II - Alumni

courses by smu executive development

View More




QS In Conversation Seminar

Join us at this stimulating seminar from 3-5 Oct, and be part of the movement to build Smart Cities and improve lives, the environment and society at large. Hear from prominent academics and experienced public sector leaders on their experiences and insights on Smart City projects. Check out the exciting programme and register now.

View More




Courses by Mindfulness Initiative @ SMU

SMU alumni enjoy 30% off all Mindfulness Initiative @ SMU courses. Find out more about the courses available.

View More
London Alumni Chapter Picnic

United Arab Emirates Alumni Chapter

Bangalore Alumni Chapter

ALUMNI AROUND THE WORLD

1 September 2018 was a popular day for gatherings, as not one, but two alumni chapters held their get-togethers on that Saturday. Taking advantage of the rare good weather, the London Alumni Chapter held their annual summer picnic at the scenic Regent Park.

Meanwhile, the United Arab Emirates (UAE) Alumni Chapter also congregated for Singaporean fare in Dubai, joined by Singapore's Consul-General to Dubai, Mr Low Pit Chen. Fruitful discussions abound, with many plans for future alumni activities in Dubai and Abu Dhabi!

Alumni in Bangalore took the opportunity to attend the SMU Business Dialogue: War For Talent- Navigating Digital India, held on 4 September, birthing the start of the Bangalore Alumni Chapter!

If you are traveling or relocating overseas, and wish to connect with our alumni, please contact samwu@smu.edu.sg.

View More Overseas Alumni Chapters
Congrats on your wedding!

OAR would like to offer our heartiest congratulations to our alumni couple who tied the knot on 18 August 2018!

For many alumni couples, SMU is the birthplace of the love that blossomed between them. If you would like to be featured, or congratulate friends who got married in September 2018, please email samwu@smu.edu.sg.

Jonathan Sim (BBM 2015) & Ho Si Min (BSc(ISM) 2014)
SMU CIRCLE is a monthly e-newsletter brought to you by the SMU Office of Alumni Relations. Read about the latest developments at the University, find out more about upcoming events, hear from your fellow alumni and stay connected to the SMU Community of alumni, students, faculty and staff. For information regarding SMU CIRCLE, email samwu@smu.edu.sg
Privacy Information | Personal Data Statement | Unsubscribe
© Copyright 2018 by Singapore Management University. All Rights Reserved
Last updated on 30 Oct 2018 .