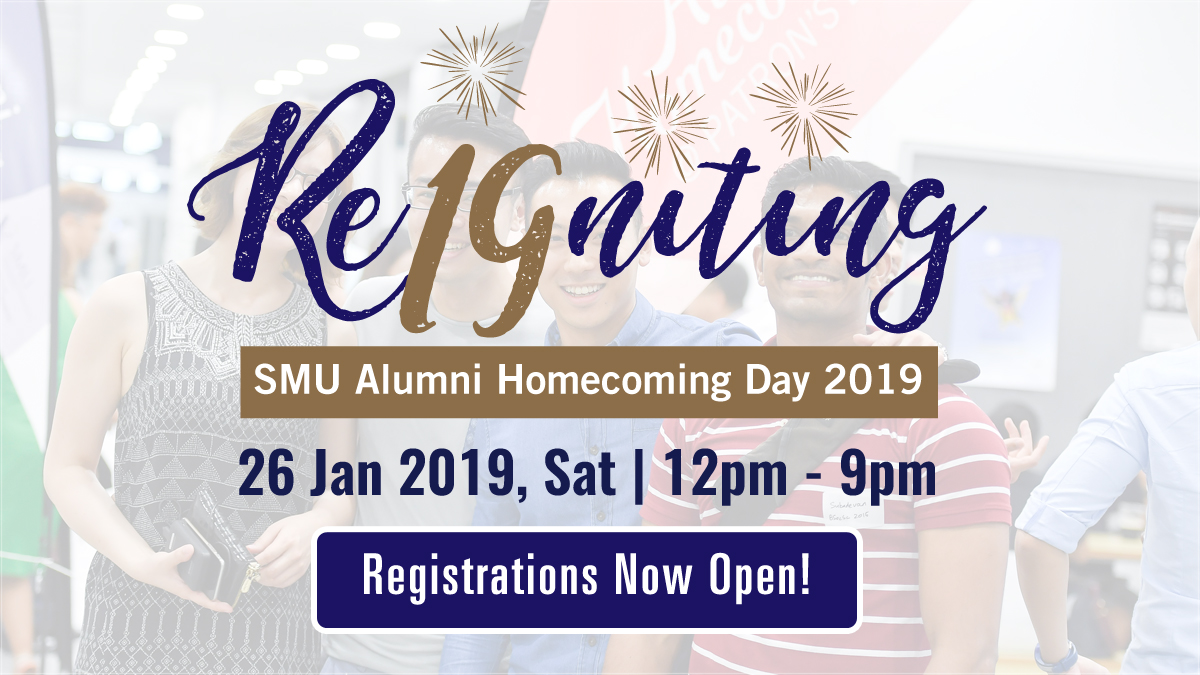 In this issue, we shine the spotlight on SMU Alumni Homecoming Day 2019, which is organised in conjunction with Patron's Day 2019! Happening on 26 January 2019 (Saturday), the event brings together all 15 cohorts of SMU alumni for a day of celebrations. You can look forward to Lucky Draws, with chances to win holidays in Bali, or tickets to watch Real Madrid's La Liga game in Spain, amongst many other prizes. Participate in "Back to Class" seminars, embark on Campus Tours and Art Tours, and interact with our Alumni 'Human Library Books'! Most importantly, it is a day to meet up with your friends from uni days, and Re19nite the SMU spirit!
Scroll down for the highlights, and don't forget to register! The first 600 alumni to sign up will receive a pair of complimentary tickets to a wine-tasting workshop. See you there!
Re19niting:
SMU Alumni Homecoming Day 2019
26 Jan 2019, Sat
Register Now!

The first 600 alumni to register will receive a pair of complimentary tickets to a Wine Tasting Workshop by The French Cellar.

Download the SMU Mobile App to check-in at the event and qualify for the Lucky Draws! Plus, you can also use the SMU Mobile App to enjoy discounts from the SMU Alumni Privilege Programme! (Scroll below for new merchants)
career & professional development

SMU Finance Masters

Upgrading your professional skillset is an investment with a proven track record. Join our information sessions (MWM / MAF / MQF) to learn about our Finance Masters today.

SMU Accounting Masters

If you are thinking of attaining an accounting qualification, join the Master of Professional Accounting (MPA) and Master of Science in Accounting (Data and Analytics) (MSA) Information Session to find out more about the programmes.

Date: 29 Nov 2018

Time: 7 – 9pm





SMU PhD programmes

Applications for Aug 2019 intake are open and will close on 31 Jan 2019.
Find out more

Courses by SMU Executive Development

29 - 30 Nov - Executive Skills for Board Members in Challenging Times - Module 6: Effective Succession Planning and Compensation Decisions

6 - 7 Dec - International Corporate Coaching (ICC) - (Intake 02/2018) ICC2B

Courses by SMU Institute of Service Excellence

Providing the only national customer satisfaction barometer since 2007, the Institute now offers public programmes which are up to 90% subsidised!

Find out more about our programmes suite and the Advanced Certificate in Service Excellence & Innovation HERE!

Upcoming: 22- 23 Nov - Human Capital Leadership: Leading A Service-Centric Culture

ALUMNI JOB BOARD

Check out the latest job postings on ONTRAC II - Alumni, including:

Cornerstone Global Partners- Recruitment Consultant (Postgraduate)

F&N Limited - Executive, Corporate Human Capital

View More Jobs on ONTRAC II - Alumni

ALUMNI AROUND THE WORLD

If you are traveling or relocating overseas, and wish to connect with our alumni, please contact samwu@smu.edu.sg.


Xiamen, China
Xiamen Alumni Chapter Official Launch
21 Oct 2018

The SMU Xiamen Alumni Chapter was officially launched on 21 October 2018 at Conrad Xiamen. The event was graced by Mr Chi Chiew Sum, the Counsel-General of Singapore in Xiamen, SMU President Prof Arnoud De Meyer, as well as distinguished guests from Xiamen University.

Manila, The Philippines
SMU-Ayala Industry Leaders Dialogue
9 Nov 2018

Our Filipino alumni showed up in strong support of the SMU-Ayala Leaders Dialogue. Alumnus Mr Alexander Richmond Uy (BBM 2010) was part of the panel, and Mr Guio Oblepias (BBM 2012) served as the emcee. Photo credit: Ayala Corporation.

Shanghai, China
AI and Big Data Forum
10 Nov 2018

The Shanghai Alumni Chapter organised an AI and Big Data Forum for its alumni, in partnership with Pivotal. More than 20 alumni attended the forum, gaining insights on artificial intelligence and Big Data.
SMU ALUMNI PRIVILEGE PROGRAMME -
NEW MERCHANTS FOR NOVEMBER 2018
Access your virtual Alumni Card on the SMU Mobile App to enjoy the following privileges and more. This month, we are pleased to welcome on board 6 brands! Click here for more information.
5% off all products from Draco Diamonds

$38 for 30 mins treatment and $58 for 60 mins treatment

(Alumni Business)

Enjoy 10% off all orders online with Kindred Teas!

Real Madrid Foundation Football School Singapore

Get a Free Trial for a session with Real Madrid Foundation Football School Singapore

Secret Hideout Pte Ltd

Up to 20% off Professional Services - Logo Design, Branding, Digital Marketing Services

Villa Finder

5% off from your choice villa
SMU CIRCLE is a monthly e-newsletter brought to you by the SMU Office of Alumni Relations. Read about the latest developments at the University, find out more about upcoming events, hear from your fellow alumni and stay connected to the SMU Community of alumni, students, faculty and staff. For information regarding SMU CIRCLE, email samwu@smu.edu.sg
Privacy Information | Personal Data Statement | Unsubscribe
© Copyright 2018 by Singapore Management University. All Rights Reserved
Last updated on 16 Nov 2018 .