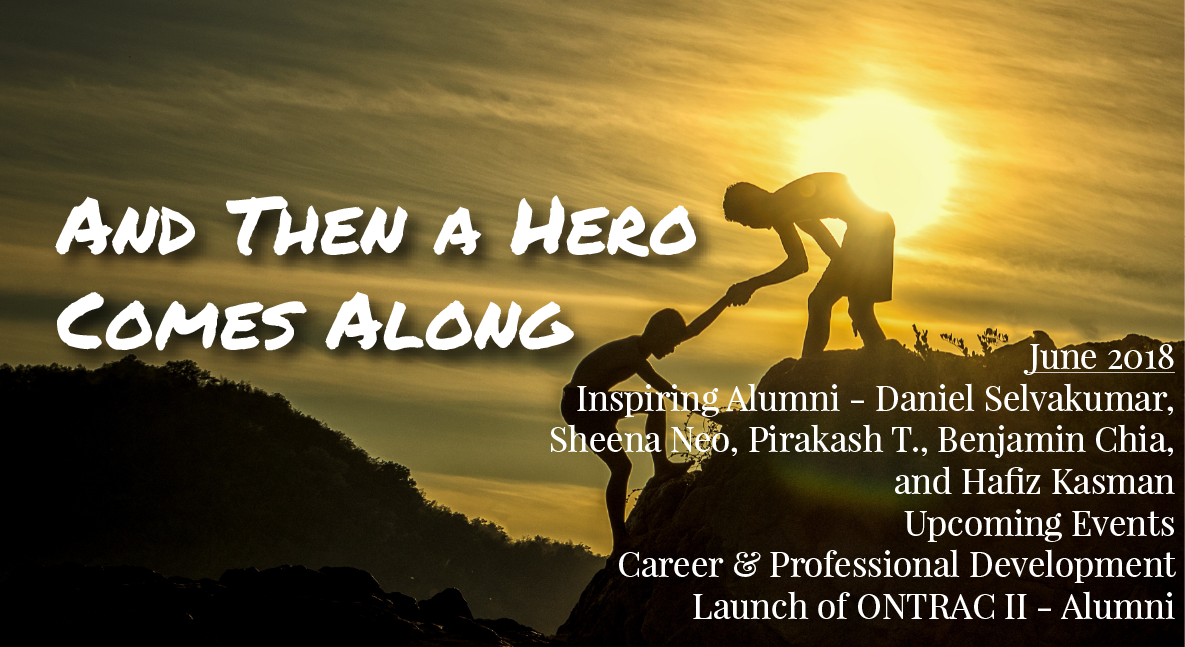 The various circles of friends formed during university days are often the greatest takeaways of every SMU alumnus after graduation. Whether they were there to tackle the toughest projects together, inspire you to reach higher ground, or simply to give you advice, our friends can be counted on to be there for you when you need them. And sometimes, they could be heroes in our lives as well. After all, not all superheroes wear capes.
In this issue, we celebrate some of the friendships that have left a lasting impact, and how these invaluable ties have been galvanising forces for greater causes and ground-up initiatives that impact the SMU community.
INSPIRING ALUMNI
DANIEL SELVAKUMAR
(BSOCSC 2015)
Sheena NEO (BSocsc 2016)
PIRAKASH T. (BBM 2015)
BenJAMIN ChIA (BBM 2015)

Sheena Neo, Pirakash T., and Benjamin Chia have one thing in common - they all know and love a fellow SMU classmate, Daniel Selvakumar. Daniel, a vivacious, charismatic, eloquent leader, led life to the fullest. What was special about Daniel however was the fact that he was born with a complex congenital heart disease with slim chances of surviving past childhood. However, Daniel never let his condition hamper him from achieving his goals and dreams. In fact, so infectious was his unwavering philosophy on living life to the fullest that his energy and positive attitude galvanised everyone around him.

Unfortunately, Daniel passed away two weeks before his 25th birthday. However, it would appear that Daniel had no regrets. A book, Stay Gold: An Almost Healthy Boy in a Mostly Healthy World, has been written, celebrating his life and capturing stories shared by his parents, and the people he made an impact on. His buddies, Sheena, Pirakash and Benjamin, organised a Book Launch commemorating Daniel's life and memory eternal.

Read More

Above: Daniel Selvakumar (BSocSc, 2015)

Above: Sheena Neo (BSocSc 2016), Pirakash T. (BBM 2015) and Benjamin Chia (BBM 2015)
inspiring alumnUS
HAFIZ KASMAN (BBM 2017)
Founder & Advisor,
The Mentoring Circle

Hafiz Kasman has been quite literally a poster boy for SMU, having appeared in SMU's various marketing campaigns. A Summa Cum Laude graduate and one of the first three recipients of MERCU-SMU Excellence Scholarship for Malay Singaporean undergraduates, there is much to be admired about Hafiz. Most crucially, he also has a heart for the community. Feeling that a buddy system for local undergraduates at SMU was lacking, he gathered his friends and formed The Mentoring Circle - an incredible, ground-up collective effort, spurred by a desire to improve the learning and student life experience of Year 1 and 2 students.

Read More
| | |
| --- | --- |
| | Alumni Groups are often borne out of shared interests cultivated during alumni's time in their respective CCAs. In the month of July, we are happy to announce that two interest-based alumni groups will be forming: SMU Ardiente and SMU Caretalyst. If you were from those CCAs, do register for the launch events! |
LKCSB Specialised Masters




Addressing business complexities with a focus on innovation, communications and human capital leadership. Join our information session to find out more. .




*****************

SMU Master of IT in Business (MITB)
Technology is key to staying competitive in today's economy. Advance your career with skills in Analytics, Artificial Intelligence & FinTech with the SMU MITB programme. Find Out More!
Launch of ONTRAC II - ALUMNI

OAR is pleased to announce the launch of ONTRAC II - Alumni, which provides a platform for alumni to seek new and varied opportunities from established SMU corporate partners. To browse for jobs, sign in with your SMU user ID or SMU email address.

If you have forgotten your SMU User ID/Email Address/Password, please contact SMU IT Help Centre via (helpdesk@smu.edu.sg) or call 6828 0123, Mon - Fri, 8am - 6pm.

Find jobs such as: Retail Specialist (Coach Singapore), Data Scientist/Engineer (Carro), Accountant (York Transport Equipment), Senior Web Developer (Trugenics), Associate Director (Edmund Tie & Company) and many more!
SMU Alumni Association

B3: Home of the SMU Alumni World Cup Fans!

World Cup 2018 is upon us from 14 June to 15 July, and if you are wondering where to catch the most exciting matches, bring your kakis down to B3 by SMUAA to watch the games LIVE on the big screen! If you're thirsty and hungry from cheering on your favourite teams, B3 has got you covered with special promotions on food and beverages. Interested in booking the bistro to watch matches beyond 1am? Simply drop an email to hello@b3smu.com. See you there!

Find Out More



alumni privileges

overseas
ALUMNI
chapters

contacts and more links

Access your virtual Alumni Card on the SMU Mobile App to enjoy the following privileges and more. Click here for more information.

B3 Alumni Bistro

15% off F&B for SMUAA members, 10% off for SMU Alumni/Staff/Faculty/Students

Sign up for SMUAA Membership here

New Merchants

Cellarmaster Wines Pte Ltd - Up to 15% off for Riedel Glassware and Wines

Tips Y Toes Nail Bar Pte Ltd - Enjoy 20% off Deluxe Gel Manicure and Pedicure Services

Extensions

Aranda Country Club - Special Executive Suite Rates for SMU Alumni

District6 - Co-working & Office Suites - Up to 15% off on Monthly Flex Desk & Fixed Desk Subscription

Looking to travel or relocate overseas? Please let us know (

samwu@smu.edu.sg

) or contact our

SMU overseas alumni chapter presidents or representatives

!





Shaanxi Alumni Chapter

The SMU Shaanxi Alumni Chapter was officially launched on 29 May 2018 in Xi'an, China, making it the 13th Overseas Alumni Chapter overall, and the sixth in China. Guest-of-Honour SMU President Professor Arnoud De Meyer joined members of the chapter at the launch dinner, attended by SMU alumni from all across the Shaanxi province, faculty, staff and even current students.

If you are living or working in the Shaanxi province, connect with the Chapter today by emailing Ms Zhang Rong (rong.zhang.2015
@mm.smu.edu.sg) today!

Office of Alumni Relations
Level 6
Administration Building
81 Victoria Street
Singapore 188065

T: +65 6828 0797

Want to login to the alumni website to update your profile, search for jobs or fellow alumni in the directory but forgot your password? Reset your password anytime, anywhere by using this online service.
SMU CIRCLE is a monthly e-newsletter brought to you by the SMU Office of Alumni Relations. Read about the latest developments at the University, find out more about upcoming events, hear from your fellow alumni and stay connected to the SMU Community of alumni, students, faculty and staff. For information regarding SMU CIRCLE, email samwu@smu.edu.sg
Privacy Information | Personal Data Statement | Unsubscribe
© Copyright 2018 by Singapore Management University. All Rights Reserved
Last updated on 14 Jun 2018 .