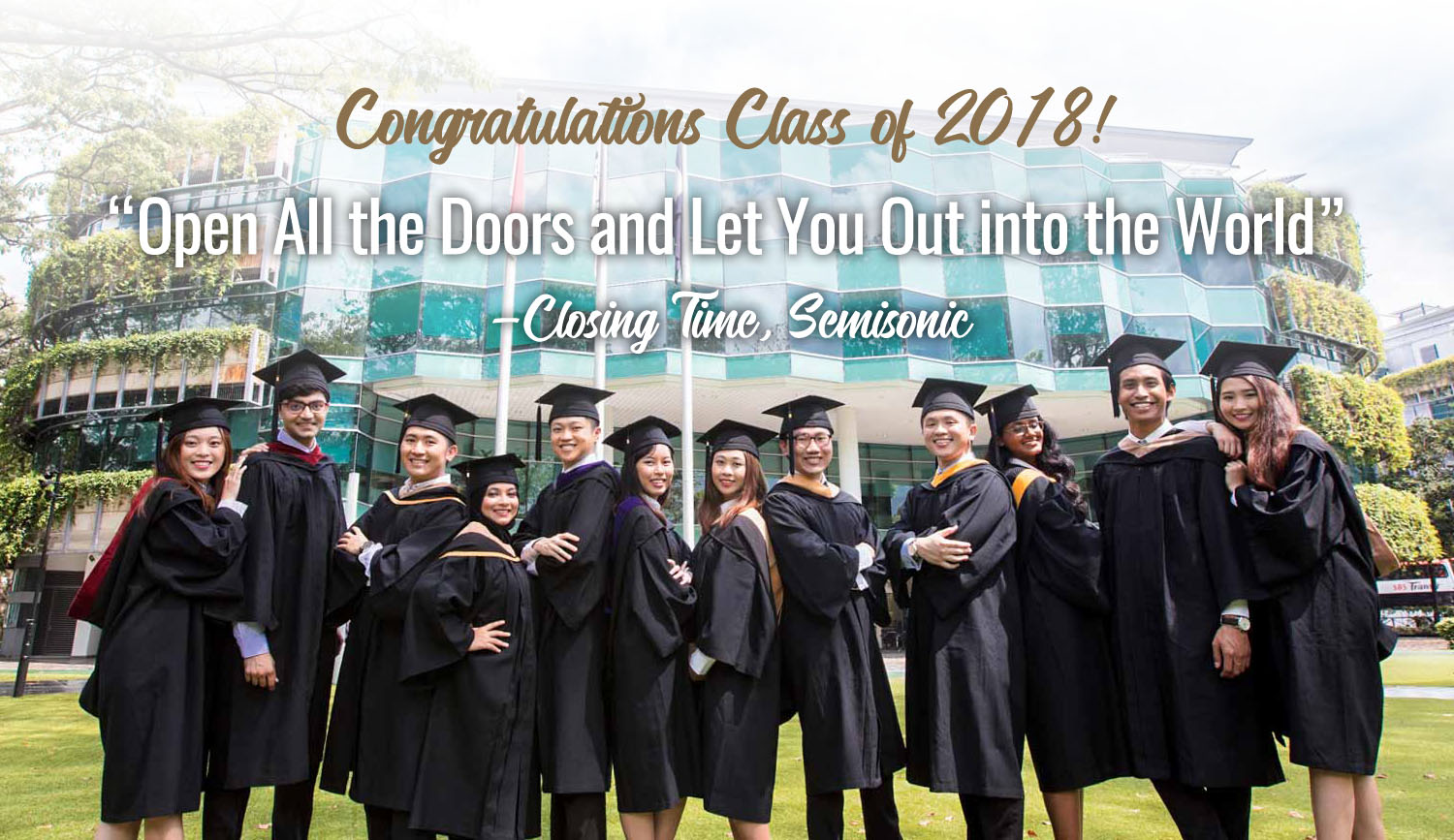 A warm welcome to the Class of 2018 to the SMU alumni family! With the addition of this year's cohort, our alumni population is now over 24,000 strong. In this July issue, we speak to our newest graduates and newly minted Class Alumni Representatives, Yap Teik Kym (SOL 2018), Kevin Wong & Peter Yap (both EMBA 2018), to reminisce their fondest university experiences.
For our "freshie" alumni, don't forget to check out the Upcoming Events calendar to make full use of SMU Office of Alumni Relations (OAR)'s suite of activities, as well as the Career & Professional Development column for job opportunities. Last but not least, although your matriculation cards will expire soon, it doesn't have to be "closing time" for you - sign up for your own gold SMUAA membership card to continue using the Library and other campus facilities!
See you at Commencement 2018 and OAR events!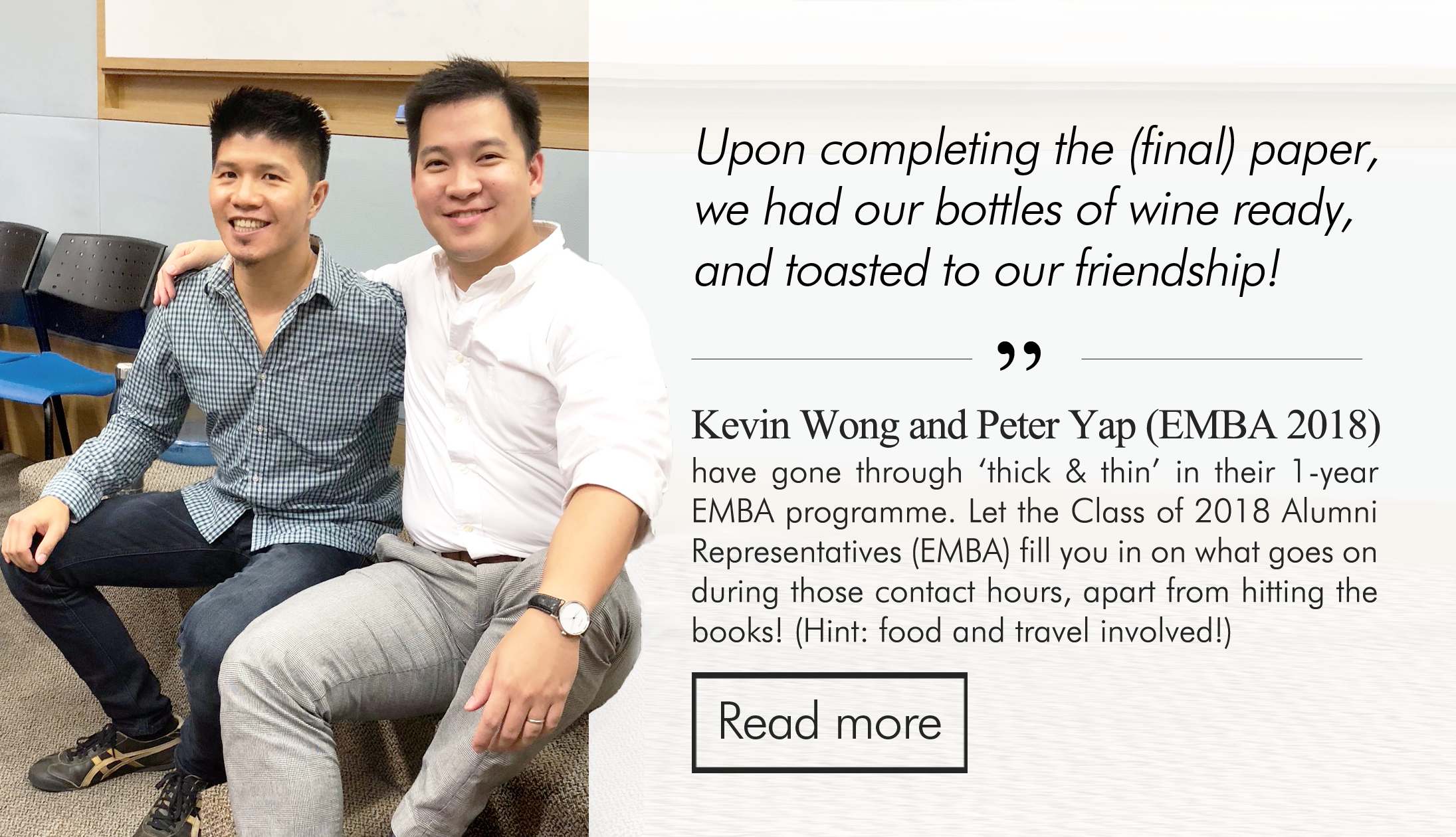 This Month, Don't Miss:

Professional Development Series:
Starting a Business Right -
Developing a Personal Brand that Sells
26 July 2018, Thursday

Learn more about personal and business branding at this workshop with Renee Tan (BSocSc 2010), Founder and Managing Director of Rendeur Pte Ltd (H.E.R Entrepreneur).




THIS MONTH, DON'T MISS:

SMU Entrepreneurship Industry Night
1 August 2018, Wednesday

If you are aiming to create your own start-up, or already a business owner, come join your fellow alumni and over 30 Venture Capitalists for an evening of ideas exchange and network building! Held at Dallas Restaurant & Bar at Suntec City's Sky Garden, treat yourself to delicious canapés over a stunning cityscape as you build your networks. See you there!




UPCOMING EVENTS (CONT.)
JULY - AUGUST 2018

View More
LKCSB Specialised Masters




Addressing business complexities with a focus on innovation, communications and human capital leadership. Join the Information Sessions to find out more.

*****************
LKCSB Management Suite
For the professional to C-level executive, gain deeper business insights and broaden your perspectives through our suite of MBAs. Learn more at the Information Sessions.




ALUMNI JOB BOARD

Check out the latest job postings on ONTRAC II - Alumni, including:

Developer (RPA Specialist) GTO - UOB

Consultant - Aadvantage Consulting Group Pte Ltd

Foreign Service Officer - Ministry of Foreign Affairs

Game Designer - SGAG Media Pte Ltd

View More Jobs on ONTRAC II - Alumni
ALUMNI AROUND
THE WORLD

Birthday Pool Party for MAC alumni

MAC hosted the Yangon BSM on 30 June

The Myanmar Alumni Chapter (MAC) sure knows how to celebrate in style! To mark the birthdays of 5 alumni born in May, MAC held a 2D1N pool party at Sunny Cove, an hour drive away from Yangon. From their happy faces, it is safe to say they had a ball of a time!

MAC also had the pleasure of hosting our undergraduate students during their Yangon Business Study Mission (BSM), led by Professor Tom Estad, on 30 June. It was a meaningful experience for the students, to meet with the SMU network in the course of their global learning. The alumni were also grateful for the opportunity to pay it forward by sharing their experiences and insights with the students.

Any alumni traveling or relocating to Myanmar can get in touch with MAC at mac@smuaa.org.sg.

Looking to travel or relocate overseas? Please let us know (samwu@smu.edu.sg) or contact our SMU overseas alumni chapter presidents or representatives!
SMU Alumni Association

WELCOME CLASS OF 2018!

The SMU Alumni Association (SMUAA) was set up in 2005 by the alumni, for the alumni. Join SMUAA today to enjoy benefits such as access to campus facilities, exclusive discounts at events and alumni spaces, as well as remaining connected with your alma mater. Existing members can also enjoy 15% off auto-renewal!

Find Out More
SMU CIRCLE is a monthly e-newsletter brought to you by the SMU Office of Alumni Relations. Read about the latest developments at the University, find out more about upcoming events, hear from your fellow alumni and stay connected to the SMU Community of alumni, students, faculty and staff. For information regarding SMU CIRCLE, email samwu@smu.edu.sg
Privacy Information | Personal Data Statement | Unsubscribe
© Copyright 2018 by Singapore Management University. All Rights Reserved
Last updated on 16 Jul 2018 .