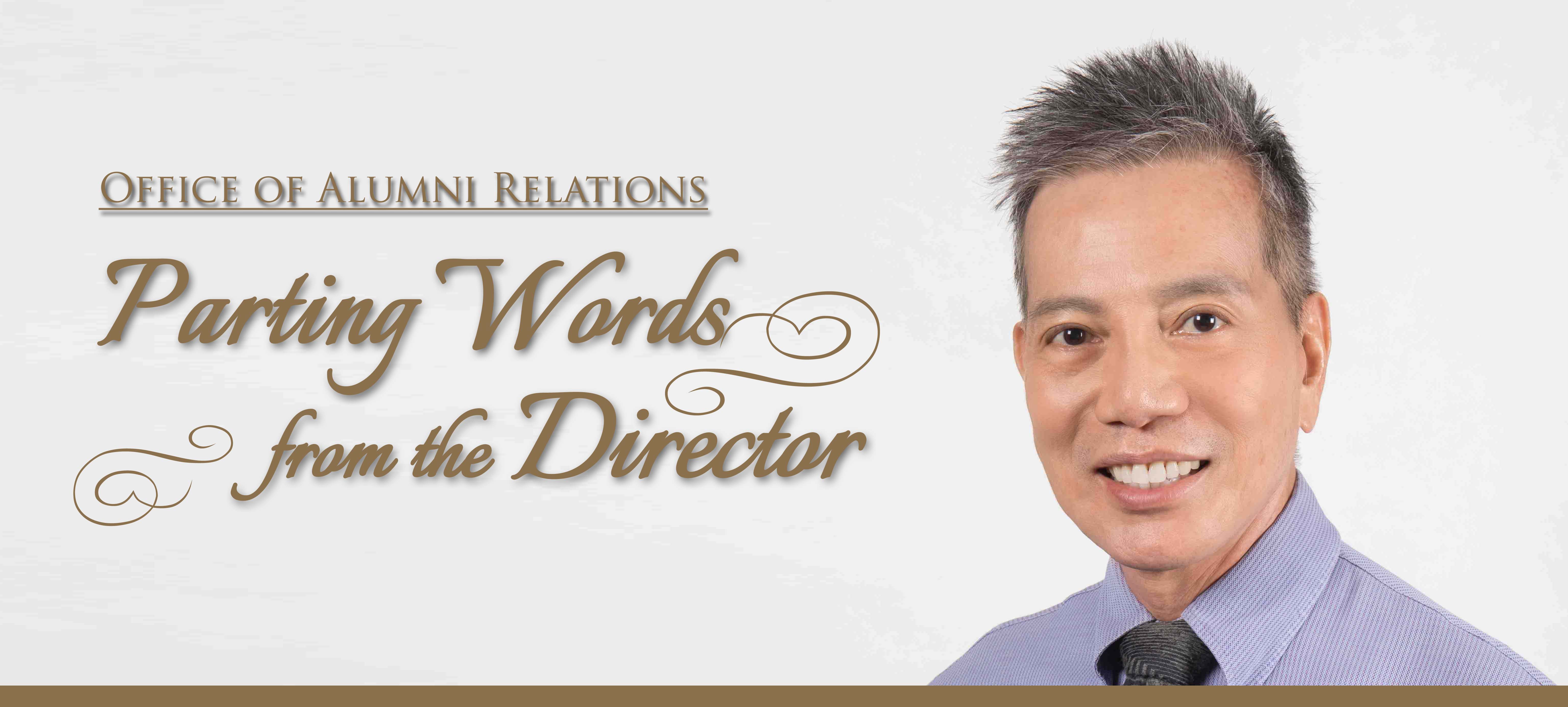 Dear Alumni,
How often does one get the chance to participate in the planning of a new university?
In 1997, SMU Chairman Mr Ho Kwon Ping was asked by then Deputy Prime Minister Dr Tony Tan to set up Singapore's third university, one that would be different from existing universities, offering broad – based interactive style of education. A team of academics (9 from NTU and 2 from NUS) and staff, led by the late Professor Tan Teck Meng as Chairman of the task force, left their respective institutions and took up the challenge to prepare for the launch of the new university. Little did they realise that their contributions would change Singapore's tertiary landscape. Today, SMU stands shoulder to shoulder with its older peers in Singapore. It is a university of choice for many students; its graduates are employees of choice for many companies.
SMU had a humble start in 2000, with 300 pioneering students, and a 3-storey building in its old Bukit Timah Campus (since demolished and converted to a car park). I was privileged to be in the planning team, and subsequently the founding Dean of Students. Those were exhilarating days, with the pioneer cohorts taking leadership, setting up clubs and initiating varied programmes. Despite the small population, the campus was abuzz with activities; there was much camaraderie and collegiality amongst students, faculty and staff. The students realised that Singapore's recognition of SMU's brand of education depended much on them and they rose to the fore. Long before the first cohort graduated, SMU students were recognised as being different – confident, articulate, spirited, resourceful. Much of this was attributed to the fact that they were encouraged to take initiative, to express themselves both in and outside the classroom, and to exercise leadership. Many student clubs were formed in those early years – Eurhythmix, Guitarissimo, Samba Masala, SMU Campus Radio (the current SMUBE), SMU Aquatic Sharks, and many others. They made a mark in sports, culture, and for their contributions to the community. Amongst employers, SMU graduates quickly became preferred employees because of their strong presentation skills, and ability to think on their feet and out of the box.
I stepped down in 2011 after 11 memorable years. It was heartening to see how the efforts of faculty, staff, and students had paid off, how SMU had imprinted its footprints both in Singapore and globally, and our graduates excelling in the workplace and making SMU proud.
Life went full circle for me when I joined the Office of Alumni Relations (OAR) in 2015. Little did I expect that, towards the end of my career at SMU, I would be reconnecting with the students (now alumni) whom I had the pleasure of interacting with during the early years of SMU's inception. Seeing them again, now successful professionally or running their own businesses, and making an impact on society, is a living testimony to the success of what Chairman Ho and the pioneer team set out to do.
The last 3 years have been gratifying, reconnecting with alumni through a host of programmes and initiatives – industry and interaction events, alumni mentoring, professional development programmes, formation of alumni groups, and through digital platforms and social media. Many alumni have also been giving back in terms of their talents, time, and resources. Some volunteer to mentor their juniors, and in so doing making a difference to their lives. Others give back by funding scholarships, financial assistance schemes, and programmes.
The SMU Alumni Association, representing SMU alumni, has also matured. In 2016, it launched the Alumni Bistro B3 providing alumni with a venue to meet. It has become a popular watering hole for the SMU community. Having proven itself, SMUAA was recently tasked with management of The Alcove, a new space for alumni networking, workshops, meetings and recreation. This is a prelude to a future Alumni Clubhouse, a "home in the city" for alumni. With support from all alumni, SMUAA can effectively support alumni causes, as well as SMU's vision to be a premier university.
Time flies! I shall be retiring from SMU this January. Much still remains to be done. I know, however, that alumni relations in SMU will be in good hands. Dr Bervyn Lee will be Director of Alumni Relations from 1 February. His vast experience as an educator and administrator before joining SMU in 2013, initially as Director of Student Life and currently as Associate Dean of Students, will stand him in good stead. He is well equipped for the role with his excellent relationships with both students and alumni.
Thank you for the support that you have given me. I hope that you'll also give Bervyn all your support, as he takes alumni relations in SMU to its next phase of development.
Best wishes,
Associate Professor Low Aik Meng
MEssage from SMUAA President
DEborah Wee (bSocSc, 2009)

"A single conversation with a wise man is worth a month's study of books."

On behalf of the SMU Alumni Association, "Thank you Prof!" for giving us your time of day and your ever-ready advice. For being the guiding hand and partner in forging a path forward for the SMU alumni and for showing us what true wisdom and gumption is. You will be missed here at SMU, but we know that we can always still find you at our alumni bistro to share a good meal, some drinks and great conversation. Cheers to an unforgettable run here at SMU! Happy Retirement!
Dedications

"Prof Low has left a legacy - he was part of the SMU story from the very beginning. For us Alumni, he has invigorated and galvanised us throughout interest groups and geographies. He is a mainstay at every event, initiative and gathering. Thank you, Prof Low, for giving a special meaning to what it means to be an SMU Alumnus; you will always have a very special place in our hearts." - Benjamin Twoon (Alumni Donor, BBM, 2013)

"A fond memory I had with Prof Low was at B3, our alumni bistro, chatting about the good old days of student life. Even though you had done so much for us, you still remained humble and hoped that we can bring our student life back to its height! Thank you for inspiring us, and we will try our very best as alumni! CHEERS! Here's to more interactions with you even after your retirement!" - Wong Wee Keat (Class Representative, BBM, 2017)

"How would you describe the second employee of SMU? Visionary. Committed. Connecting. Engaging. Unassuming. These words come to mind when I think of Prof Low. As the Director of OAR, I'm grateful he launched various initiatives, especially the growth of alumni chapters, which led to a buzz and energy among the alumni never seen before. His dedication, sincerity and personal involvement is not only exemplary, but a major influence in bringing the alumni closer as one body. I know his presence would be missed by many of us. Prof Low, I wish you all the best in your future endeavours. To quote you: "Welcome to the SMU alumni family!"" - Terence Quek (Alumni Ambassador, MCM, 2013)

"To others, Prof Low may be just a Professor and one of the pioneers of SMU. But to his students, he is a HERO. He has given close to 20 years of his life to something bigger than himself. His accomplishments are remarkable, and even more so, what he has helped his students and alumni to accomplish!" - Hong Huazheng (Curator of SMU Alumni Collective, BBM, 2010)

"I had the fortune to get to know Prof Low as the ex-Dean of Students,whose influence and outsized personality always loomed large. Prof Low took time to reach out to various stakeholders within the SMU alumni community. Together, we launched SMUpreneurs (the SMU Alumni Network for Entrepreneurs), held numerous local and overseas events, and even embarked on a study mission to Israel that included alumni for the first time. Prof Low is indeed a Trailblazer for bringing the alumni network to new heights. I speak for all alumni in saying that we are forever in your debt for uniting us as one." - Ivan Chang (President of SMUpreneurs, BBM, 2014)

"In a culture that blames young millennials, Prof Low does the exact opposite. He teaches, mentors, and most importantly, works alongside with them. I have not met a Prof that understands students so deeply with such passion. At over 70 years young, he is one of us - a true millennial." - Benjamin Wong (President of The Mentoring Circle, BBM, Year 4)
The ALcove will be officially opened on Friday, 19 January 2018. The event will be graced by SMU Chairman Mr Ho Kwon Ping and SMU President Professor Arnoud De Meyer.

Since its soft launch in November 2017, The ALcove has been a gathering place aimed at bringing SMU alumni, students, staff and faculty together for networking events, workshops, meetings, and recreation. Managed by the SMU Alumni Association (SMUAA) on behalf of the Office of Alumni Relations (OAR), it is a prelude to an alumni guild house in the future.
SURVEY
ALUMNI Professional Development Series

We want your feedback!
Did you participate in OAR's professional development series of workshops in 2017? What did you enjoy about it, and what would you like to see more of? Take 5 minutes to complete this survey so that we could serve you better in 2018!

Take Survey

career & professional development
ALUMNI JOB BOARD

- Industry Value Creation Manager (Partners Group)

- Technical Trader (RGE Ltd)

- HR Business Analyst (Amazon)

- Enterprise Sales Executive (Grab)(Based in Myanmar)

- SMB Sales Executive (Grab) (Based in Myanmar)

View More
SMU CIRCLE is a monthly e-newsletter brought to you by the SMU Office of Alumni Relations. Read about the latest developments at the University, find out more about upcoming events, hear from your fellow alumni and stay connected to the SMU Community of alumni, students, faculty and staff. For information regarding SMU CIRCLE, email samwu@smu.edu.sg
Privacy Information | Personal Data Statement | Email Preferences
© Copyright 2017 by Singapore Management University. All Rights Reserved
Last updated on 30 Jan 2018 .