Meet SMU alum Saddad Haque (BBM, 2014), a self-professed doner kebab lover. So keen was his love affair with kebabs that he set up his own kebab restaurant, EPIKebabs even as an undergraduate student at SMU back in 2012. Juggling a fledging business, classes, meetings, school work and CCA activities might be daunting for the vast majority, but this MMA (mixed martial arts) practioner kicked metaphorical butt. Today, the entrepreneur has set his sights firmly on expanding overseas, bringing his "meaty, juicy kebabs" (Editor's note: his words, but yes, we tried the kebabs and we concur!) to Indonesia. Next stop, world domination perhaps? We certainly hope so! Read on also to discover how the moniker EPIKebabs came about.

Hi Saddad! Could you share with us the origin story of EPIKebabs? How were you introduced to the idea of opening a store selling kebabs?
My first encounter with a doner kebab or shawarma, as it is also known, was during a trip to the Middle East when I was just an 8 year old child. I was mesmerized by the huge, slowly spinning mount of meat dripping with juices, as well as the aroma wafting as the meat is cooked. It was love at first sight (and smell!). Ever since then, it has been my favourite food, so much so that over time, I had considered myself somewhat of a connoisseur in doner kebabs.
In Singapore, kebabs aren't such a common staple and the most common place you can find it would be at pasar malams. However, kebabs sold at these pop-up markets simply did not do this wonderful cuisine any justice. I wouldn't say that I made it my life's mission to open a kebab shop but the circumstances leading up to the opening of my business was mostly serendipitous.
About two to three years before I opened my first shop, I found a kebab shop that sold what I thought were the best kebabs ever. These were simple, honest and delicious. So it became my almost daily spot and I made good friends with the owners – a pair of brothers from Antalya, Turkey. We became very close and it was from them that I got inspired to start my own kebab shop too. I was inspired by their success but also thought that I could take the business to even greater heights. When they decided to leave Singapore in 2011, I knew that I had to open my own kebab shop (where else would I have my daily kebab fix?!). They were gracious enough to guide me through the tough initial stages, which I will be eternally grateful for.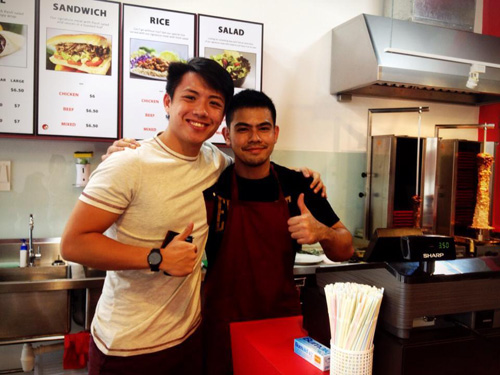 (Saddad, right, with a friend at EPIKebabs when it first opened in 2012)
What were some of the challenges you faced when you first started out in 2012 as a student? Was there resistance from family or peers, for instance?
Every single day was a challenge. Thankfully, most of my family and friends were supportive. My mother was worried because I was starting a business in the middle of my already hectic university education at SMU. Nonetheless, I did all I could to allay those fears.
The biggest challenge at the start was indeed juggling school and work. I was no straight-A student, but I knew that I had to jump and open this business even though I was still a full-time student. I had basically no life for the first six months to a year of running the business -- waking up at 5 a.m. every day to do food prep, starting work, running the busy lunch crowd, heading back to school for classes and meetings, and then going back to work for closing. This was my daily routine and by the time I reached home, it would be around midnight and I still had to finish whatever schoolwork I had. That was definitely the biggest challenge at the start. Most of my peers were struggling with just the SMU curriculum while I had to do that plus start and run my own business with a severe lack of manpower.
When I think back to those days, I wonder how I made it through without crashing; it was without a doubt mostly due to the support of my close friends and family. They even took time off from their schedules to help me out at the shop, and always encouraged me and kept me going.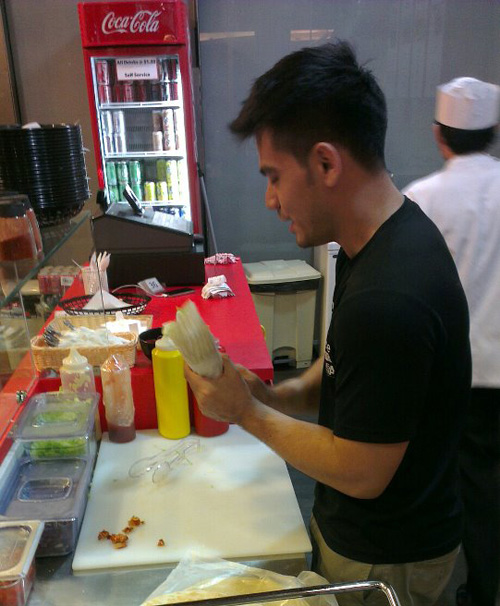 (At the start, Saddad had to manage almost everything by himself,including the preparation of food)
What is the most satisfying aspect of owning your own F&B business?
In the initial stages, the most satisfying thing for me was just to successfully execute a presentable kebab roll, and looking at the customers enjoy it from the corner of my eye. It was and still is a goal for me to make sure that every one of my customers leaves satisfied.
Now, I would say the most satisfying aspect of running my business would be to watch my staff and colleagues grow and to help them to reach their potential. I have always known that one of the best ways to ensure longevity in business, especially in the F&B industry, is to have a capable team. The best way to retain this capable team is to make them feel that they are part of something important and that they own this important thing and can shape how it goes. The general manager of my operations has been with us from the very beginning, and he had started out not knowing a single thing about F&B, much like myself. So for me, to see how much he and the others have grown will always give me great joy, and make me feel like I have really impacted someone's life and made it better.
(Saddad, middle, with his staff at his EPIKebabs store)
How had SMU's university education added to your experience of owning EPIKebabs?
Honestly, no course in school can ever prepare you for running a business, other than you simply going out there and doing it. However, thankfully, I had some budding entrepreneurial adventures in SMU with my close friends. I started and grew the SMU Mixed Martial Arts Club together with my late best friend. We also started SMU STUFF with another friend JS (pictured below) where we designed and sold SMU merchandise under SMUSA. This was before the existence of the SMU Shop, by the way. I guess those experiences made me understand how to run a "business" and primed me to be ready for the bigger stages.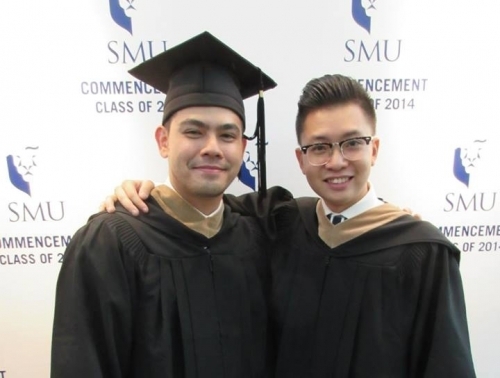 (Saddad, left, with his friend JS, at their Commencement ceremony in 2014)
If you were not running EPIKebabs, what would you have pursued?
It's really hard to imagine myself doing anything else now that I am so entrenched in doing this business and so focused on keeping it growing and running. Also especially since I started the business before my 3rd year, I never actually bothered looking for a job. I would probably have still started another business, if not EPIKebabs. I would still have been an entrepreneur.
What are your plans for EPIKebabs?
We have recently gone international with our first overseas branch in Jakarta, Indonesia. So that is where I see the future of our brand. Locally, we are expanding by increasingly becoming a corporate/catering kind of concept rather than opening more physical stores which require huge capital investments. Hence, I foresee catering to be a larger part of the business in Singapore.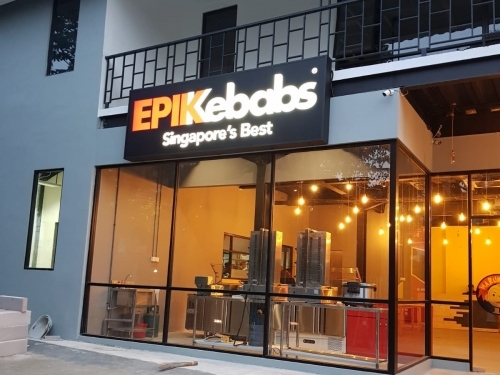 (EPIKebabs' first branch in Jakarta, Indonesia)

What advice would you give to your SMU juniors who might be aspiring to start their own F&B establishments?
I often see people who want to start an F&B business but do not wish to get their hands dirty -- they simply hire a chef or people to do the grunt work and just collect money. However, I feel this is not the right way, as the entrepreneur has to get his or her hands dirty (sometimes literally!) and has to know exactly what the product is about, at least at the start. Most importantly, never put your business at the mercy of someone else. That is essentially what you are doing if you just hire a chef or people to take charge of things.
F&B is the easiest industry to enter but it is also the easiest industry to fail in. Especially in Singapore, when retail rental is simply the biggest killer of most F&B establishments (even big brands, never mind the small humble start-ups). Nevertheless, if you have a great product and a solid concept, go for it. Trial you product online (where you don't have to pay rental) or at pop-up events, and if it goes well, by all means find a nice suitable location and dive all in.
Finally, before we let you go, what inspired the name "EPIKebabs"?
We just wanted a name that described what we were selling -- really epic kebabs. So we just stuck the two words together to make EPIKebabs. Till this day, we still have people pronouncing it as E-PEE-Kebabs. So if you are reading this right now, please know that it is simply Epic Kebabs. :D
******
Check out Saddad's kebabs, EPIKebabs, at:
8 Wilkie Road, #01-17, Wilkie Edge, Singapore 228095
Operating Hours:
11 am – 8:30 pm daily
EPIKebabs is Halal-certified.
Last updated on 13 Mar 2019 .