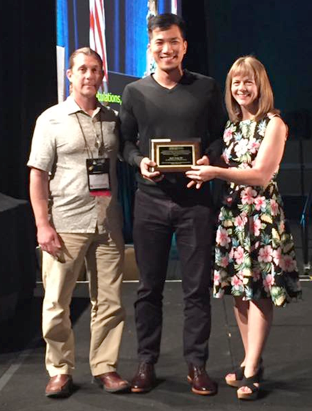 SMU alumnus and staff Jack Ho (BBM 2005) received the Association on Higher Education And Disability (AHEAD) Diversity Recognition Award at AHEAD's 40th annual conference in Florida, USA on 21 July 2017.
The AHEAD award recognises outstanding work in promoting diversity within higher education, and in the profession of disability services. The award selection committee chose recipients who were identified through nominations from peers within the Association. It is the first time a Singaporean has been presented with this award at AHEAD. SMU and OAR proudly congratulates Jack on his achievements as he shares his thoughts on diversity and inclusion in SMU.
You graduated with a Bachelor of Business Management from SMU in 2005. How was your SMU experience and your career journey since graduation?
I was in the second batch of undergraduates in SMU. We were a small community back in 2001 at the Bukit Timah campus. Everyone knew one another – if not by name, then by face. There was an unmistakably friendly vibe on campus and the culture was informal, where everyone, including our professors, was on a first-name basis. I enjoyed the undergraduate experience. There was strong student and faculty engagement, and a great sense of collegiality within our community.
After graduation, I worked as a journalist for three years and as a digital editor for the Singapore Tourism Board for a year before joining SMU as an editor in the research office. In 2012, I was lucky enough to be offered an opportunity to start a new function at SMU – Diversity & Inclusion. It's an exciting job, and so I've been at it ever since.
Tell us about the Association on Higher Education And Disability (AHEAD) and the diversity and inclusion space in SMU and Singapore.
Back in 2012, when the Diversity & Inclusion (D&I) initiative came about, "diversity" was rather foreign to the Singapore scene – at least within Singapore institutions and organisations. To get my footing on the role, I did a bit of research and spoke to diversity professionals in Singapore. All of them came from multinational corporations. SMU was the first university in Singapore to create a D&I function. As part of my research, I stumbled upon AHEAD, found the group to be highly relevant to my work, and so, in 2014, I applied to become a member.
AHEAD is a professional association for individuals involved in the development of standards and capacities to meet the needs of persons with disabilities involved in all areas of higher education. Provide training, consultation and resources to higher education professionals, AHEAD has been tremendously helpful in my area of work and I've learnt a lot from them.
In 2016, I joined the association's Member Development Standing Committee, helping to drive communication, professional development and growth across the association's network. This year, I was asked to be co-chair on this standing committee.
As a professional association based in the United States, the Association's members are largely from the United States. Having said that, AHEAD has been drawing more international delegates in recent years due to its strong global reputation for championing disability and access within the sector. Non-US members are a small minority.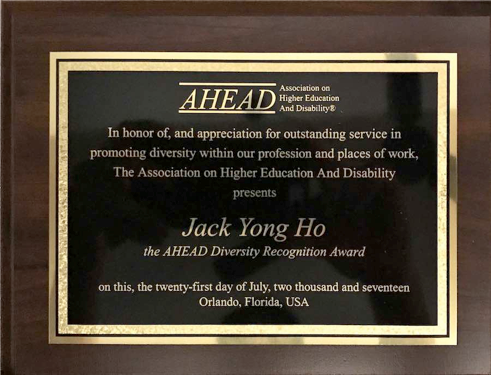 What were your contributions that led you to winning the award?
They acknowledged that I had started and set up the D&I function at SMU - a first in Singapore's higher education sector. They also recognised my efforts in prioritising standards for disability services, and in undertaking initiatives to build sector capacities. Whilst most of my peers at AHEAD have jobs that focus only on disability services, I was lucky enough to have had opportunities to run initiatives that champion a broader spectrum of issues around diversity.
One of the initiatives that I'm most proud of was the creation of an undergraduate course with a former colleague and friend at SMU's School of Social Sciences. The course was called "Managing Diversity in Asia", and we had designed it to spur discourse and reflections on multiculturalism and social identities. The course was on the list of SMU-X courses, as it included experiential learning elements, and real-world projects.
Click here if you are unable to view the video above.
Tell us more about Diversity, Inclusion and Integration in SMU.
Diversity, Inclusion & Integration initiatives in SMU are driven from the Office of Dean of Students. Our goal is to build a safe and inclusive learning environment through connections (e.g. building bridges and fostering positive interactions), cultivation (e.g. developing leaders, champions and capacities) and community (e.g. continuous stakeholder engagement). The team runs a number of large-scale events to increase appreciation of diversity on campus; we champion student leaders through SMU International Connections (ICON), and we oversee disability services and accessibility for students, staff and faculty.
In 2016, we were honoured to receive the SG Enable-Tote Board-Enabling Lives Initiative Grant to strengthen our efforts in promoting inclusive higher education practices. With this grant, the DII team works with local Institutes of Higher Learning (IHLs) to develop guides to help disability services professionals in Singapore. The funding also supports training and development programmes for disability services professionals at IHLs. Together, we hope to strengthen the network of disability service professionals and facilitate the sharing of best practices.
What are your hopes for the future of diversity and inclusion in SMU?
A running joke amongst D&I professionals is that if we do a good enough job, we will be out of a job. It's not a funny joke, but it's true. I do, however, hope that with time and through greater awareness, there will be more ownership for inclusion from all levels of the organisation. Every now and then, I'd hear people suggest that inclusion isn't my job but your job. If only I had such power. Everyone should know that they have the ability to make others feel welcome on campus, and I hope, more often than not, they are empowered to do so. For more than a decade, SMU has claimed to be "different" – a Different U that makes Differences, and nurtures graduates that are Different. It's only fitting that we are welcoming towards differences.
What advice would you give to SMU students embarking on their student journey at SMU?
Diversity is beautiful, and it's a fact of life - so dare to be Different. More importantly, learn to welcome the Different and differences. You can be a force for positive change at the university and beyond.
Last updated on 10 Oct 2017 .