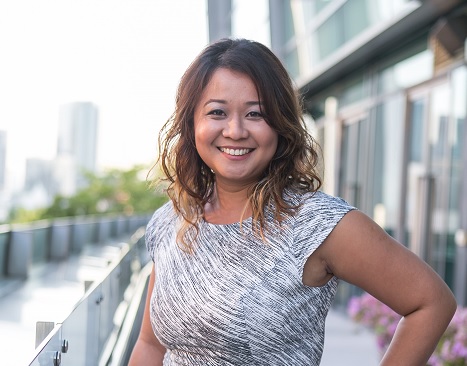 SMU undergraduate Class of 2004 pioneer cohort alumna, Elfarina Zaid (BBM 2004), likes to take the road less travelled. A few years after graduation, she returned to SMU for another degree. She was in the pioneer cohort of SMU Master of Science in Innovation programme (MI 2013). Now an entrepreneur and a Professional Certified Coach, Elfarina shares with us her passion for mentoring and coaching, and how she overcame the challenges faced during her entrepreneurship journey.
How did your passion in coaching come about? How do you think SMU has prepared you to venture into the coaching industry?
At a point in my career in Dubai, I craved the idea of "humanising organizations" – that people were an equally important part for a business/ operation to be successful. People are our focus. I was blown away by the power of coaching due to the ability to evoke transformation sometimes by a mere shift of perspective, and through the relationship (with our self, others and together as a system). Coupled with the pursuit of product and service excellence I had to master from my early career in the luxury brand management and hospitality, I believed I had an interesting proposition to contribute towards my coaching business journey. I decided that coaching was going to be my profession after day 2. This turned out to be a 1.5 year coaching programme and close to a decade as a professional coach and growing our leadership firm. I'm loving it.
Being a pioneer, SMU offered the platform for us to take the initiative, to go and create what we want happen. SMU was a vision made real and this is the crux of coaching - seeing a vision materialise. Perhaps the most important 'preparation' SMU offered was the opportunity to have met my life and business partner, Farhann.
Tell us more about what you do and the company you co-founded, Elf Coaching. What were the challenges faced in the early stages? How did you overcome them?
Founded in 2009, Elf Coaching is a boutique leadership firm aimed at engaging executives and multinational organizations to create innovative, learning cultures to lead with purpose in Asia. Our core competencies are in 3 areas: Innovation and Engagement; Leadership and Coaching; Cultural Competency.
Since 2016, we partnered with CRR Global (United States) to offer Internationally Accredited ICF Team and Systems Coaching programmes - known as Organization and Relationship Systems Coaching (ORSC™), in Singapore & Malaysia under CRR Singapore. Elf Coaching is undergoing rebranding to include our latest venture, CRR Singapore.
Farhann and myself wear multiple hats in our organization. For myself, I get to do the fun stuff - doing whatever it takes (coaching, training, facilitating, speaking and sometimes mediating) to challenge and support our clients to achieve the goals they have set for themselves.
There have been many challenges -1. Believe in ourselves, 2. Build the trust and relationship with our clients, 3. Working together as business and life partners.
1. Believe in ourselves - one of our first major clients was a government in Asia and a leading oil and gas supplier - we needed to do whatever it took to ensure we delivered as promised. With one of them, we over promised and under-delivered so that brought us to the 2nd point.
2. Build the trust and relationship with our clients - we had to speak openly with our client to uncover our core strengths and admit our shortfalls. That turned out to be a fulfilling working relationship where we helped them reduce attrition by 30-70% over 2 years.
3. Working together as business and life partners. - We had to design our partnership alliance and this is still a work in progress of continued open communication and designing partnership alliance.
What are the highs and lows that you have experienced during your entrepreneurship journey? What motivates you to continue down this entrepreneurial path?
Every time we keep our client year on year, clinched a new engagement, design a new year long leadership program and go out there to kick butts and invite possibilities, I get a high. I am also inspired by humanising organisations - in our work, we believe relationships matter from the boardroom to the living room.
Initially my lows were - explaining why we chose this path, cashflow and vulnerability. Now, we do less explaining and focus more on impact, and ask and offer help whenever we can.
Working with my life and business partner enables us to design the life we seek for ourselves and our family - that of possibilities. That have been and will always be the driver. With our entrepreneurial journey, we also get to be hands on parents to our daughter, Farrah. She inspires us as much as we hope to inspire her that if something is really important, go for it.
What do you consider are important traits entrepreneurs should possess to be successful?
Ask first: "What does success mean to me?" Then carve your own terrain. Success means so many things to different people.
"If you say you can, you can. If you say you can't, you can't".
Entrepreneurship is as much about the passion as well as the struggles one is willing to journey.
Courage, purpose, believe, resilience, relationships and integrity have been our core values that have supported our path too.
What advice will you give to students and alumni thinking of taking the entrepreneurship road (such as the types of business to enter into, selection of partners, etc)?
I find it really difficult to offer a blanket advice as there are many different roads to entrepreneurship. One advice:
Get a sponsor / mentor / coach - they are helpful as the road can be especially lonely sometimes.
I would rather offer questions:
"What does success mean to me?"
"What is the vision that I see, that is able to serve others?" - Entrepreneurship is value exchange - we receive what we can offer to the world.
"Who do I surround myself with?" How can I design my partnership alliance with my business and/or life partner?"
"What am I willing to struggle for? / For the sake of what?"
Understand that you do have to travel quite a fair bit for work and with all the coaching and speaking engagements, how do you juggle both family and work commitments?
Yes I travel a lot. And I could not do this without designing a partnership alliance with Farhann. It means talking about how we spend our time, what to focus on, and between the 2 of us and our kid, what is important. I am lucky because I have found my life's calling through my work so it is fulfilling. Fulfilment is a radical act ;)
As an alumna from the pioneer batch, why did you choose SMU? You also chose SMU again for your postgraduate studies, what made you come back?
I chose SMU to be part of the pioneer batch. I would have otherwise pursued fashion as I had received a scholarship back then.
I wanted new ways of looking at things and to be able to empower innovative and learning cultures in organisations. Basically, innovation with a focus on people. The MI Programme complemented the art and science of leadership, employee engagement and change management. The other reason was because it was a pioneer batch and no other universities at that time offered a holistic approach to innovation in Asia (others had a strong focus on technical and product innovation).
You were involved in our SMU Alumni Mentoring Programme for the past couple of runs, how was your mentoring experience? What inspired you to give back by being an alumni mentor?
I didn't have a mentor back in those days and I wished I had one. So I signed up and hope that it has been beneficial to my mentees. I learn as much from them so they inspire me.
You are also the President of the Master of Science in Innovation Alumni Group – SMU Innovators. What are the current upcoming plans for the Group?
We are planning our next meet up in Q3 of 2017. Hope to see you there!
Last updated on 15 Jun 2017 .