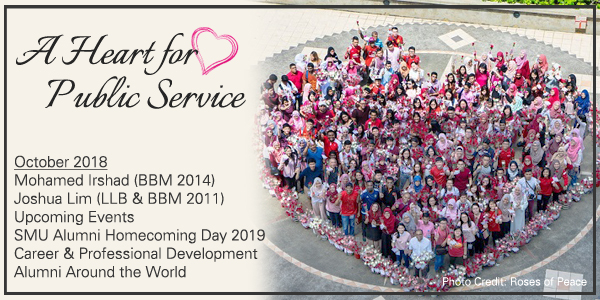 SMU alumnus, founder of Roses of Peace, and recently selected Nominated Member of Parliament (NMP) Mohamed Irshad (BBM 2014) never had the intention of entering politics. However, his desire to give back to the community led him to undertake and accept the appointment. Likewise, Joshua Lim (LLB & BBM 2011) considered himself "an accidental law student" - the first SMU School of Law's valedictorian now uses his talents and legal knowledge to make a difference in society, serving in the Policy Development Division at the Ministry of Home Affairs. Hear the inspiring stories behind these two young gentlemen, and how their SMU experience had encouraged their passion to make meaningful impact in the public sectors.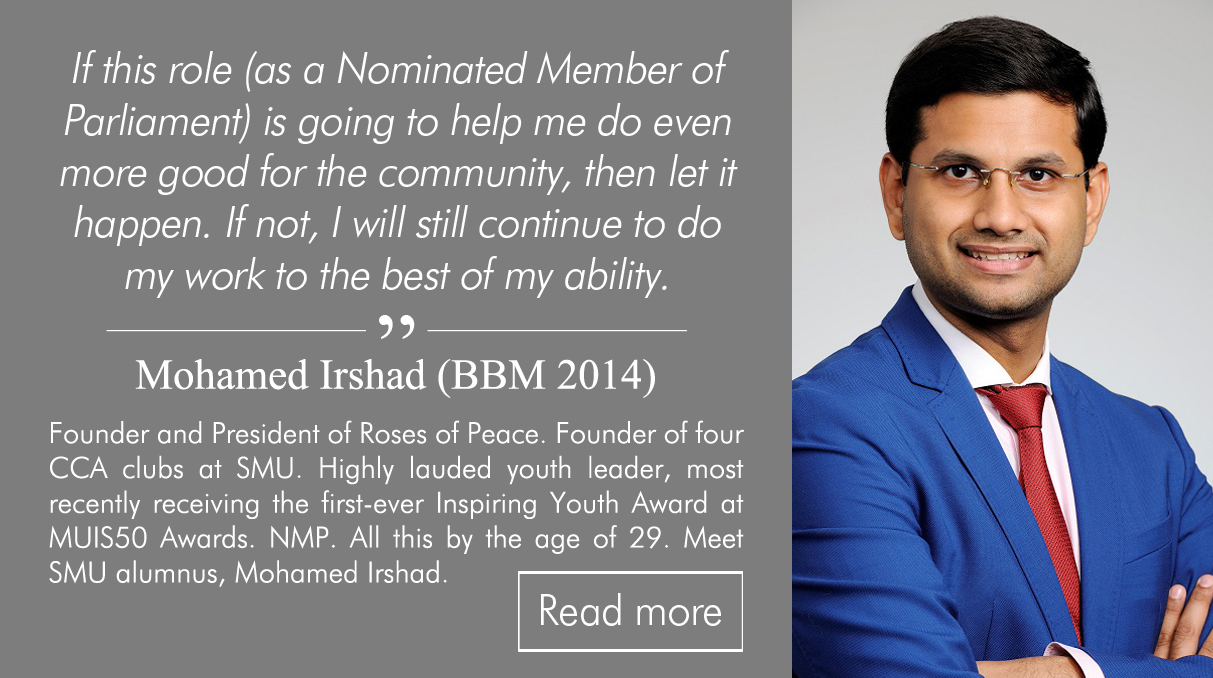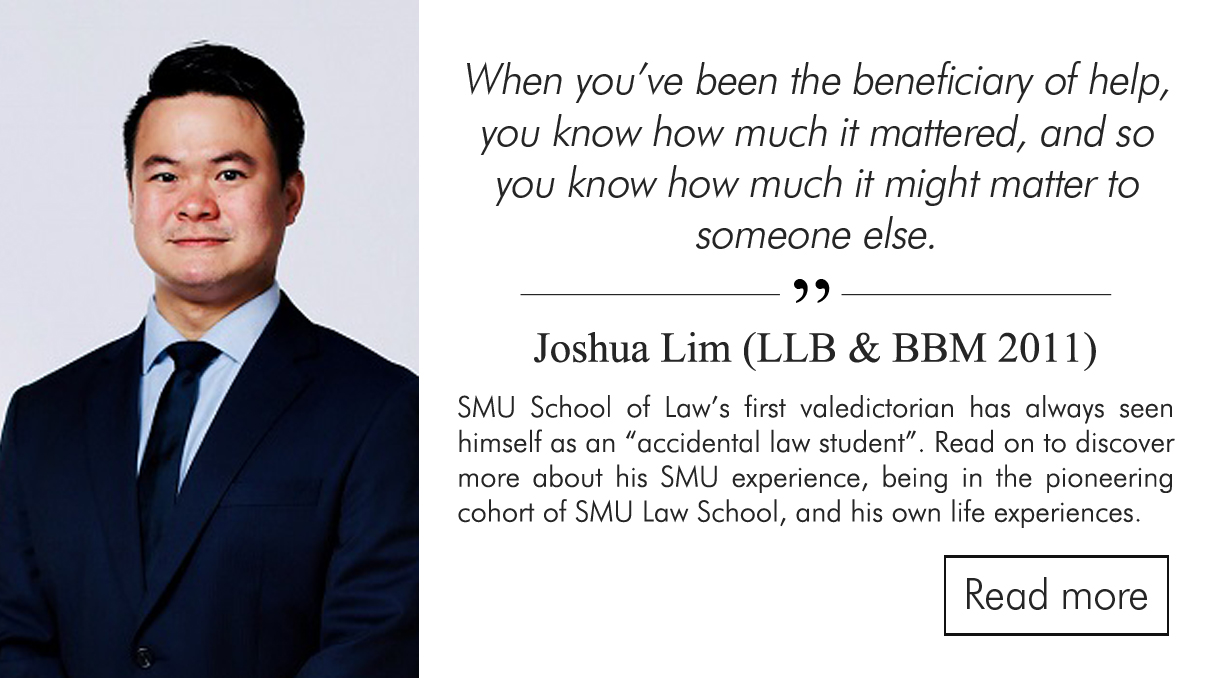 career & professional development




SMU MBA Programmes

From full-time to blended programmes, gain deeper business insights and broaden your perspectives through our suite of MBAs. Learn more at our Information Sessions.

SMU Master of Science in Accounting (Data & Analytics)

The ​MSA ​programme ​is ​the ​first ​specialised ​Master's ​degree ​in ​accounting ​data ​and ​analytics ​in ​Asia. Join the Information Session to find out more.

Date: Thu, 18 Oct 2018

Time: 7 – 8:30pm


SMU PhD programmes




Applications for Aug 2019 intake are now open and will close on 31 Jan 2019.
* Candidates who apply by 31 Oct 2018 will be given priority for consideration of scholarships.
Find out more




ALUMNI JOB BOARD

Check out the latest job postings on ONTRAC II - Alumni, including:

Client Coverage Analyst (Investment Banking) - RHB Bank

Human Resources Assistant Manager – Asia Pacific - Tata Communications

View More Jobs on ONTRAC II - Alumni
The SMU Myanmar Alumni Chapter at a company visit to Go-Jek, as part of the inaugural Alumni Study Mission.

The Myanmarese alumni enjoyed a gathering and networking session with SMU Indonesia Alumni Chapter, further cementing the global connections of our overseas alumni!

ALUMNI AROUND THE WORLD

SMU Myanmar Alumni Chapter (MAC) Alumni Study Mission to Jakarta, Indonesia

Who said that study missions end upon graduation? With the aim of learning from leading businesses in Indonesia, 14 alumni members of SMU MAC embarked on the inaugural Alumni Study Mission to Jakarta from 7 - 12 Oct, visiting companies such as Go-Jek, KPMG Indonesia, Ancora, Wonderlabs, and more.

The study mission was initiated and organised by the Chapter's Exco members, tapping on SMU's industry & International Advisory Council partners. Of course, they did not miss the chance to meet up with alumni from the SMU Indonesia Alumni Chapter who warmly welcomed them!

If you are traveling or relocating overseas, and wish to connect with our alumni, please contact samwu@smu.edu.sg.

View More Overseas Alumni Chapters
SMU ALUMNI PRIVILEGE PROGRAMME -
NEW MERCHANTS FOR OCTOBER 2018

Access your virtual Alumni Card on the SMU Mobile App to enjoy the following privileges and more. This month, we are pleased to welcome more than 16 brands on board! Click here for more information.

Shiok Kitchen Catering
(Alumni Business)

10 % off with a minimum spend of $500 for catering

ZiggyFeet
(Alumni Business)

50% Discount off Level 1 Introduction Dance Classes

10% off total bills of participating restaurants, including: Suki-Ya, Rocku Yakiniku, KURO Izakaya, Bangkok Jam, Typhoon Café, Tong Kang Riverboat Dining, Hot Stones Steak & Seafood, Fremantle Seafood Market, Talay Thai

Browhaus - $17 Brow Shaping Service

Spa Esprit - Stress Rescue Facial 75 min @ $90

Qi Mantra - Qi Star Blast Massage 60 min @ $38

Strip - 15% off Waxing Services

We Need a Hero - Barber Haircut @ $45
Congrats on your wedding!

OAR would like to offer our heartiest congratulations to our alumni couples who tied the knot in September 2018!

For many alumni couples, SMU is the birthplace of the love that blossomed between them. If you would like to be featured, or congratulate friends who got married in October 2018, please email samwu@smu.edu.sg.

Mohamed Irshad (BBM 2014) &
Fahima Farha (BAcc 2018)

Elwin Quek & Jasmine Ng (both BAcc 2014)

SMU CIRCLE is a monthly e-newsletter brought to you by the SMU Office of Alumni Relations. Read about the latest developments at the University, find out more about upcoming events, hear from your fellow alumni and stay connected to the SMU Community of alumni, students, faculty and staff. For information regarding SMU CIRCLE, email samwu@smu.edu.sg
Privacy Information | Personal Data Statement | Unsubscribe
© Copyright 2018 by Singapore Management University. All Rights Reserved
Last updated on 30 Oct 2018 .