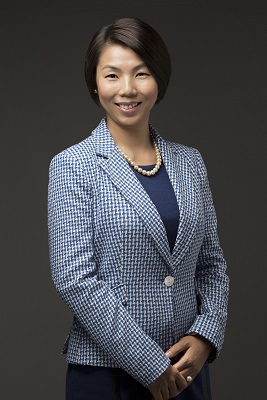 Entrepreneurship is in alumna Chua Meimei's DNA. Since graduating from SMU in 2007, she has been instrumental in setting up various joint ventures and expanding her family business. For a young entrepreneur and "boss", her early days were challenging. However, with determination and perseverance, she overcame the odds and brought her family business, and the firm which she co-founded, to new heights. They are now recognised brands in their respective industries. Here's her story.
You graduated with an honours degree from SMU in 2007, majoring in both Marketing and Management. Since then, you have pursued careers in various organisations such as Apex Pal International and Beauty Palace Co., Ltd. You are now the Managing Director of United Beauty Palace Myanmar Co., Ltd. Tell us more about your endeavors.​
Since our successful joint venture in 2015, between Beauty Palace and Philippines largest Pharmaceutical Conglomerate United Laboratory Inc (Unilab) to form United Beauty Palace Myanmar Co., Ltd.,​ we have continued our commitment to build and grow world class quality home-grown personal care brands and products to improve the life of the people of Myanmar. We have constructed manufacturing facilities to produce the most trusted brands in personal care and female hygiene in Myanmar. Our aim is to turn home-grown brands into international brands, and put our foothold in the world map of personal care by distributing in the region. One of our best selling products, Best-T is the market-leading gel toothpaste in Myanmar, competing alongside brands from MNCs such as Colgate and Unilever.
Tell us about Keier Group which you co-founded. Why did you choose to venture into the entrepreneurial scene?
Since the opening of Myanmar in 2012, we have identified opportunities in several industries. We also acknowledged gaps in the market. It was natural, for me, to act upon those opportunities that were presented. We started with​ ​Keier Business Centre in 2013 which was the first fully furnished and equipped serviced office provider in Myanmar. Since then, our brand name Keier has become a recognised brand name in this competitive industry serving many international established clients such as SingTel, L'oreal, Bellportinger, Sunray to name a few.
Entrepreneurship is in my DNA. I have been encouraged by people around me. At age 13, I followed my father to his business negotiations and meetings. ​Since then I've never looked back. ​Conceptualising new business ideas and getting my hands 'dirty' using different business ​models​excite me. I tell myself that since I'm young, I've little to lose. If I do not try now, then when would be the right time?
How is the business environment in Myanmar compared to Singapore? Why did you choose to start your business in Myanmar?
I am Burmese and proud to be one. I would like to serve my country and my people in any way I can. I've been given this chance to witness and be part of the transition in one of the world's fastest growing economy - I could not be in a better place than where I am right now. I am glad to be part of this history as a change advocate. Being a SMU alumnus, I want to do things differently.
The Burma business climate is one that is challenging owing to the lack of infrastructure, and unclear regulations and policies necessary to facilitate economic growth. We are still working towards national reconciliation as well as restoring law and order. It is also a diverse society, with eight major ethnic groups and hundreds of minorities with different cultures, languages and geographical locations. These are challenges for a country with many sectors awaiting development.
In contrast, Singapore and Hong Kong are "ideal" for businesses owing to its political stability and financial regulations. There is law and order. Infrastructure is world-class. There is great connectivity amongst people. These attributes are what I'd like to witness for Burma during my lifetime.
The similarity I see between Singapore and Myanmar is that both countries face challenges although in different forms, and their business environments will continue to evolve with time. To me, challenges are opportunities in itself.
What were the challenges faced in the early stages? How did you overcome them?
Being in a family business, I had to overcome the generation gap. I had to constantly challenge the "tried and tested" method used for generations especially in the rapidly evolving business environment. Being the eldest, I had to be the "change champion" and pave new paths.
This was mitigated when we went into a joint venture. Now with a professional team assisting me in managing the business, there are less disagreements at the home front on business issues. I have also been fortunate to have met mentors throughout my learning journey; they provided me with guidance and support and I am now more confident when making decisions. I have learnt not to mix personal emotions in my business decisions.
What are the future plans for the Keier Group? Any chance to expand your business to Singapore or other countries?
There is a market gap in Myanmar for fully furnished rental apartments. Our aim is to continually build the Keier brand by offering a full suite of services to clients varying from business offices to accommodation. We are always open to expansion overseas, pending the right climate and opportunities.
What are the highs and lows experienced during your entrepreneurship journey? What motivates you to continue down this entrepreneurial path?
One experience, which I will never forget, happened within a year of my joining my father's business in 2009. I had to deal with mass resignation of the entire management team consisting of operating directors, general managers, and senior managers from all the departments. I was just starting to understand the business, so it was quite an ordeal. Nonetheless, I recognised that it was hard on the team to follow the lead of a young and inexperienced female leader, who was given this opportunity because she happened to be the daughter of the owner. I was fortunate that I was able to hire a new team within two weeks, who capably turned the business around. Looking back, it was a blessing in disguise as it enabled me to restructure the whole organisation in the shortest time possible. Through this experience, I have learnt that "what doesn't kill you, makes you stronger", and that determination and persistence will prevail. But honestly that was one experience I wish never to repeat.
Seeing dreams turning into reality, ideas turning into business, and given the opportunity to serve my country and my people, make this whole journey a very fulfilling one. Seeing each member of my team grow and develop with me, keeps me going. I have no regrets.
What do you consider are important traits entrepreneurs should possess to be successful?
Over the years, this is my observation on the traits of successful entrepreneurs. I called it the APPROACH philosophy.
A - Attitude to succeed
P - Passion in what you do
P - Priority, it is all about time management and opportunity cost
R - Robust and flexible to overcome adverse situations
O - Open minded to feedback and criticisms
A - Active listening to your people
C - Continuous expansion of network
H - Humble and Hardworking
What advice will you give to students and alumni thinking of taking the entrepreneurship road (such as the types of business to enter into, selection of partners, etc)?
If this is what you dream of, JUST DO IT. The difference between dreamer and visionary leader is ACTION. Seek mentors to bolster our lack of experience. Work with like-minded partners and never compromise on our values.
I am very cautious when selecting business partners. There are many stories of failed 'marriages'. I value partnerships that ride the lows and highs. To achieve that, we need to seek out like-minded partners, ensure our values align, and protect the interests of our partners by looking for win-win solutions. I am fortunate that I have good partners who are supportive, and most importantly embrace differences in agreeing to disagree, who complement each another, and clearly recognise each other's role and contributions in the partnership.
On the type of business to embark on, it is important that the business idea addresses a need. One should look for ways to turn challenges into opportunities. One should also be persistent - if it does not work out, try again. It only gets better learning from mistakes.
You are a member of the newly launched SMU International Advisory Council in Myanmar. Tell us more of your role in the Council. Any current or upcoming SMU activities or plans that you are supporting in Myanmar?
My role is to advise SMU's management on ways to raise the university's profile in Myanmar and to implement initiatives that are aligned with SMU's strategic direction, such as by encouraging corporates and other institutions to collaborate with and support SMU's programmes and overall growth and development. We act as ambassadors of the university, to support and lead SMU's activities in Myanmar. These activities will include dialogues and/or panel discussions to raise awareness of SMU's thought leadership, its Areas of Excellence, and alumni networking sessions.
Currently, we are in the progress of setting up working committees within the alumni chapter to support various upcoming initiatives. These include a monthly alumni gathering/networking session, faculty visits, Study Missions, BFI@SMU Learning Trip, and participating in business case writing.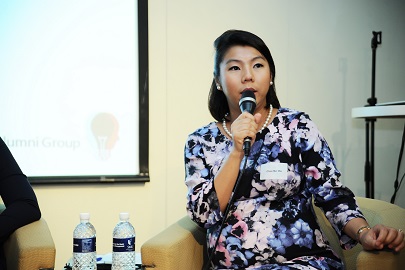 Ms Chua Meimei (above) speaking at the inaugural alumni sharing session on 25th August 2016 by SMU Business Families Alumni Group
Last updated on 16 Aug 2017 .