Terence Quek with SMU President Arnoud De Meyer
Launched on 22 June 2015 by SMU President, the Master of Science in Communication Management (MCM) Alumni Group is the newest addition to the SMU Alumni Community. OAR talks to the President of this Group, Terence Quek, and he shares with us his passion in contributing back to the University.
You did your one year postgraduate studies in SMU. What gives you that special affinity for SMU such that you are actively contributing back as an alumnus?
It's an honour to be enrolled into the first cohort of Master of Science in Communication Management offered by Lee Kong Chian School of Business. I am also thankful to be awarded a scholarship by SMU-WDA-IPRS to pursue the programme. Through the post-graduate programme, I've not only gained valuable knowledge to advance myself professionally, I've also gained friendships that I hope to keep for a lifetime. By choosing to give back actively to the School, the University, and the Alumni Community, I know I am playing my part in building a strong SMU community. This also provides the platform to continue strengthening the friendships that are important to me while allowing us to keep lifelong learning alive.
What prompted you to initiate forming and actively pushing to launch the MCM Alumni Group?
I was nominated Class President of my batch, and we were the pioneer batch, so I guess it was natural for me to take the lead in the conversation of starting an Alumni Group for the Master of Science in Communication Management. I don't think I had to do much persuasion because my classmates and members of the second cohort were all very forthcoming. We were all aligned in wanting to create an Alumni Group for the programme so we can support the University in building a community out of the graduates of this programme. This is so that we can raise the profile of this programme and enhance the competency of the graduates through lifelong learning. We also received tremendous support from Lee Kong Chian School of Business, the SMU Office of Alumni Relations, and the SMU Alumni Association, which made it really easy for us to get things going. We are also delighted to receive the direct support and endorsement from SMU's President, Professor Arnoud De Meyer, who came personally to launch the MCM Alumni Group in the presence of industry leaders, SMU faculty, alumni and guests. What more can we ask for?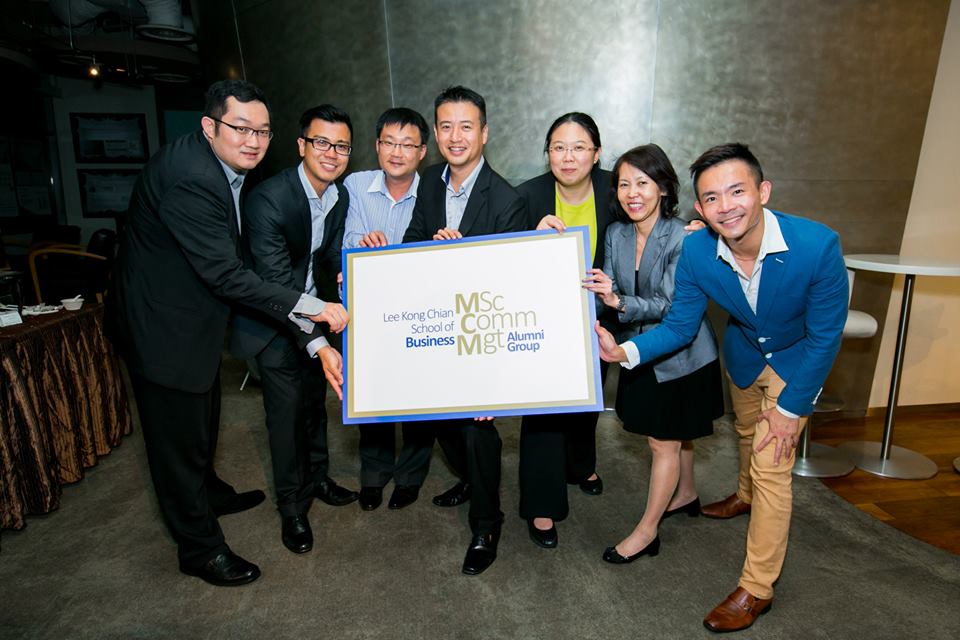 Terence Quek (center) with MCM Alumni Group Exco
Any exciting plans ahead for the Group that you would like to share with us?
Yes! With an objective of establishing a strong network for MCM graduates and current students and the wider University community, my Executive Committee team and I have developed three strategic thrusts to align all our activities – building a Community, building up Capability, and building up Credibility. To this end, we will be organising industry nights, events and professional seminars to provide networking and employment opportunities, as well as mentorship programmes to allow alumni holding senior positions in the industry to guide current post-graduate or even undergraduate students who are interested in communication as a profession. As a young Alumni Group, we are constantly learning and seeking advice and suggestions on what we can do to meet the needs of the alumni, so we will certainly be shaping our plans along the way. But one thing is for sure – we want our events, initiatives and programmes to be of a high quality so that fellow alumni have something meaningful to look forward to each time.
Apart from the duties as President of MCM AG, are there other ways in which you are also contributing back to the University?
I am currently volunteering my time as a member of the Board of Alumni of Lee Kong Chian School of Business, giving inputs from an alumnus's perspective to help the School achieve its vision and mission. I'm also working with the Office of Alumni Relations to help create partnerships with industry players to benefit our wider alumni community. As CEO of Emergenetics International-Asia Pacific, I'm also extending my company's expertise in human capital development to shape OAR's offerings to alumni in the area of career advisory and personal development.
Any words of wisdom for fellow PG alumni?
As students, we had all put in our time and resources into one or more of the University's programmes, and while our classes have come to an end, the relationship with the University is one of perpetuity. We will always be an alumnus/a of SMU, so it makes perfect sense that we continue to take a keen interest in the University's development, and whenever we are in a position or have the capacity, we must give back or lend a hand to the University, the school, or a fellow graduate or current student. I'm in awe by the stories of Universities overseas, about how strong their alumni spirits are, to the point that alumni would only hire graduates from their alma mater. SMU may be a relatively young university compared to some of these Universities, but there is no reason why we cannot forge this spirit of looking out for one another. It's not something that can be achieved overnight, but we need to start somewhere.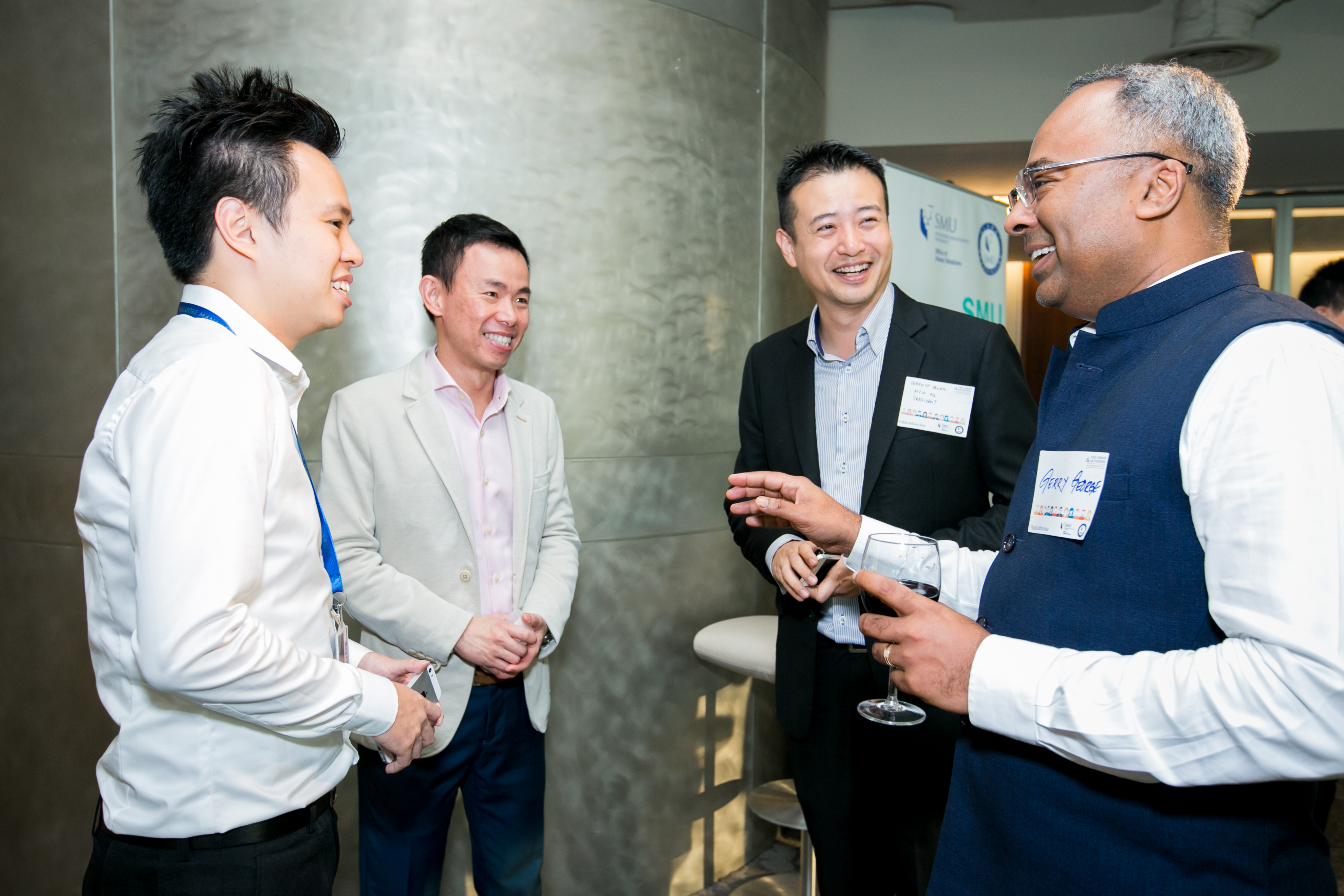 Terence Quek (second from right) at the first MCM Industry Night - The Urban Gathering
About Terence Quek, PBM
As the Asia Pacific CEO, Terence runs the Asia Pacific Headquarters of Emergenetics International, a global consultancy that leverages tools and solutions developed from research grounded in brain science for people and organisation development. He is also Executive Director of Caelan & Sage, a consultancy focusing on strategic communication. He volunteers as member of the Board of NACLI, serves as District Councillor of South West Community Development Council, Chairman of SAFRA Punggol Development Committee, and Director of Communication of Project Happy Feet Limited. He was awarded Public Service Medal by President of Singapore in 2014 and JCI The Young Outstanding Persons of Singapore Honouree for Humanitarian and/or Voluntary Leadership in 2009. He is a scholarship recipient of the SMU-WDA-IPRS Scholarship for Master of Science in Communication Management.
Last updated on 16 Aug 2018 .