Alumni Mentor Benjamin Loh has been busy with his entrepreneurial company, mentoring, conducting workshops, entering a writing competition and planning for his wedding. The SMU Office of Alumni Relations caught up with him despite his busy schedule for a more detailed update of what is going on in his personal life, career and his mentoring journey.
It has been some time since we last caught up with you for our Alumni Profiles. What have you been up to professionally?
I've expanded my training and coaching efforts! I am now working with corporate clients like the Monetary Authority of Singapore (MAS), ANZ Bank, Credit Suisse to name a few. Likewise, a year-long project I've been working on finally hatched on 23 November 2015 when I launched my first published book, 'INSPIRIT – How Asian CEOs Inspire Action From The Stage'. In this book, I've interviewed 12 leading Asian CEOs from companies like LinkedIn, Bain & Co., Mondelez International etc. Moving forward, I look forward to deepening my work in public speaking training and also speaking on issues related to the Millennials and the Multi-Generational Workforce. In 2016, there will be more exciting developments to come. Possibly a project that involves a media production!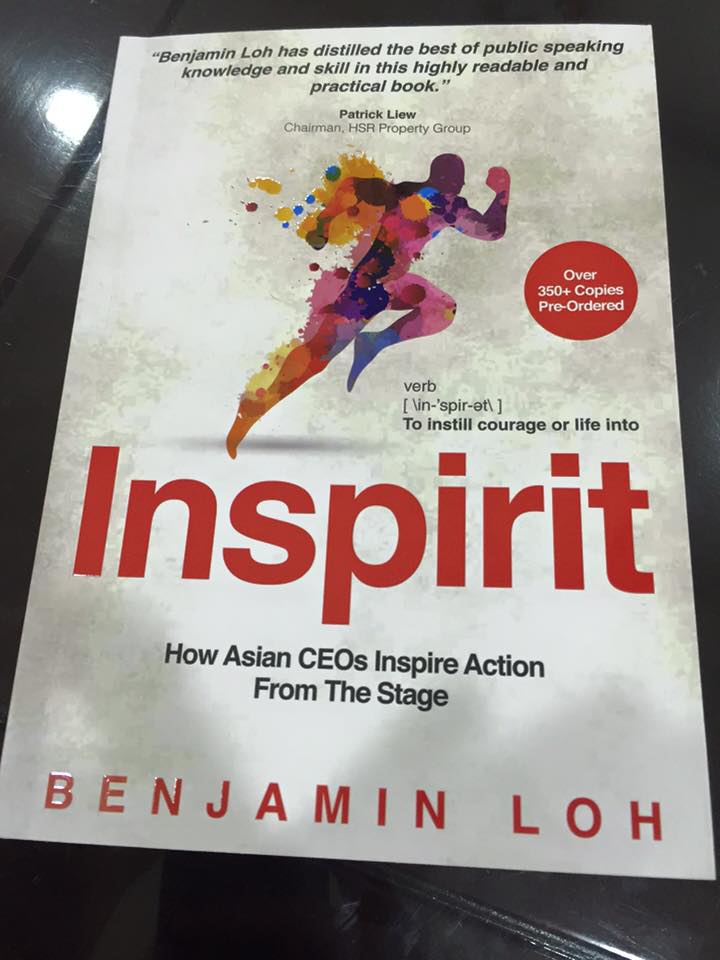 Wow! I'm sure you have been very busy! By the way, congratulations on clinching the 2nd Prize in the Global Drucker Challenge 2015! Tell us more about it.
It was an an international competition involving postgraduate students and entrepreneurs writing on insights on management with the influence of the late Peter Drucker. Winning the Global 2nd Prize for the students category, I was overwhelmed to go through the entire experience. I met Cecily Drucker, the daughter of the late Peter Drucker and was humbled by how Peter Drucker invested his life into furthering insights on what we know as modern day management philosophy. Aside from that, we were treated to two full days of intellectual discussions from corporate organisations, fast-growing start-ups and government organisations on the theme of 'Managing Oneself in the Digital Age'. We were also brought on a tour of the beautiful Vienna and I spent some valuable time alone for self-reflection as I had two major projects in the pipeline then – my book launch and marriage.
Great that you have some personal alone time to recharge. You're are an active alumni mentor in our Alumni Mentoring Programme. Why motivates you to contribute back to SMU as a mentor year after year since you graduated despite your busy schedule?
Echoing what I shared during one of the alumni events, I think mentoring is inherently a selfless act. In fact, you may be giving more than what you think you can get. I am not going to deny it's going to be investment on your part – energy, time, resources, connection! Yet after mentoring for three rounds, I always almost take away a lot in terms of joy and fulfilment. Whether it's seeing your mentee secure her ideal job or helping your mentee through a rough period of time you once gone through to placing them in a company that you're associated with – all of which reminds you that when you can be in a position to give back to your alma mater and juniors, it can be immensely rewarding. I would add on to say – it's also one of the best ways to give back to the alma mater as while you're doing so, you're building up the alumni and the legacy of SMU.
Heard that you recently got married, congratulations! Understand that your fiancée is also an SMU alum! Tell us how you both met and your thoughts on taking this next important step in your life.
Let's just say - she was the person who balanced me when I struggled to balance my balance sheets at SMU School of Accountancy (SoA). I'm glad to have tied the knot with her and our gatecrash post got viral too -http://mothership.sg/2015/12/wedding-gatecrash-bar-just-raised-get-512-facebook-likes-to-marry-your-bae/.
On another note, thanks for taking the time to be featured in the Office of Alumni Relations Corporate video*. Any words of advice for your fellow alumni?
Let's fly the SMU flag proudly and while we do so — reach down and help our juniors up so we soar together. Together, we'll take SMU to greater heights.
*Stay tuned for the launch of the Office of Alumni Relations (OAR) corporate video in early 2016!
Last updated on 13 Jun 2016 .